In a major setback to the Congress party in Nagaland, former State Chief Minister Keyezhe L Chishi on Saturday resigned from the party primary membership.
"In view of the trust deficit in spite of repeated submission and advice to the appropriate authority in the Congress for the last one year, I cannot remain in the party anymore," Chishi said in his resignation letter sent to the president of Nagaland unit of the Congress K Therie.
The State goes to polls on February 27 next along with Meghalaya.
The term of the 60-member Assembly expires on March 13, 2018.
He also categorically mentioned in the resignation letter that he is resigning from 'party responsibilities' and from the primary membership of the party with 'immediate effect.'
Meanwhile, party sources have also confirmed about the resignation of the former Chief Minister without, however, divulging any further details.
It is also not clear yet whether Chishi will join another party or abstain from active politics.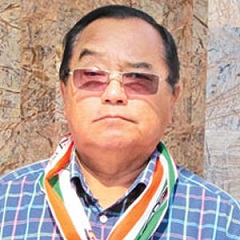 Chishi's resignation is seen as a massive blow for the party as it will have to frame poll strategies for the ensuing Assembly elections from zero after all its elected legislators have already deserted the party.
Notably, Chishi was also part of an eight-member coordination committee recently formed by the Congress president Rahul Gandhi for the Nagaland Assembly election.
Chishi had lost the elections last time in 2013 from Dimapur-I Assembly Constituency in an INC ticket.
NPF MLA resigns: On the other hand, another legislator of ruling Naga People's Front (NPF), Vikho-o Yhoshu, has resigned from the Nagaland Legislative Assembly. He was also the Advisor to the Chief Minister for Mechanical Engineering and Chairman of Nagaland State Mineral Development Corporation Ltd (NSMDC) with Cabinet status.
Yhoshu tendered his resignation from the membership of the 12th Nagaland Legislative Assembly in a letter to the Speaker on January 20.