Meghalaya CM Dr Mukul Sangma on Tuesday stressed on the need to restore the dying culture and traditional values of the tribal communities in the state. Sangma made the statement at the inaugural ceremony of Koch cultural centre-cum-museum at Ghasura in his Ampati constituency.
The centre is being maintained and managed by the Meghalaya Koch Association, which has its headquarters at Ampati.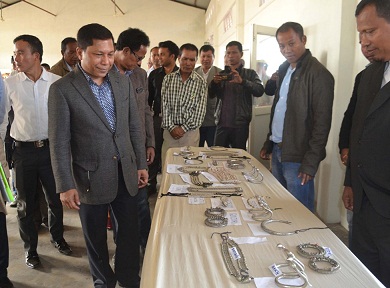 The Koch cultural centre-cum-museum was conceptualised by the CM as a hub of traditional activities of the Koch community of the state and constructed under Article275 (1), Ministry of Tribal Affairs, Government of India at a cost of Rs 50 lakhs.
South West Garo Hills, Deputy Commissioner Cyril Darlong Diengdoh, Executive Member of GHADC, Nripen Koch and members of the Meghalaya Koch Association (MKA) and members of the Koch community from various parts of the state attended the inaugural programme along with the people of the area.
In his inaugural address the Chief Minister lamented that many communities have failed to preserve their age-old tradition which has resulted in complete deviation and dilution of their culture.
"The culture or way of life of a community goes beyond the dress they wear or the language they speak. The most important thing is to restore the dying traditional values like respect for one's elders and reverence for law and customary practices" Sangma said.
He exhorted upon the members of Koch Association to motivate and train the younger generation to learn the dying forms of arts related to their culture like playing traditional musical instrument, dance and drama and added that the display of culture through various forms of traditional art is one aspect of preserving age old customs, which can motivate the younger generation to appreciate and preserve their identity.
"This centre should be a hub of activities and learning of skills and knowledge which is linked to people's rich cultural traditions and heritage", he said and expressed hope that the centre would be used to the fullest to serve the purpose of culture and the community.