Assam Finance, Health and PWD Minister Himanta Biswa Sarma on Monday laid the foundation stone of the Mising Autonomous Council's (MAC's) permanent secretariat at Maharicamp in Dhemaji district.
In a meeting, held on the occasion, Minister Sarma said more power and financial assistance would be extended to all the autonomous councils of Assam.
"The Government has already increased 20 per cent in the allocation of funds and another 10 per cent would be increased soon," said Sarma.
Minister Sarma also said a full-fledged secretariat with residences of Executive Members (EMs) of the MAC would be built here in Maharicamp.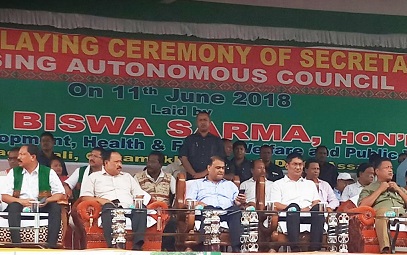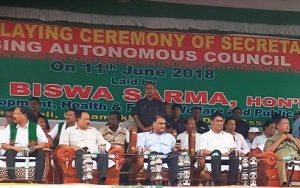 The Government has allocated Rs 5 crore to the MAC and out of that amount, Rs 2 crore has already been released and more required fund would be released.
"Under the Uttaran scheme of the Government, Rs 10 crore will be provided to each constituency of the State," he said.
Sarma also spoke about the Kanaklata Women Empowerment scheme, Atal Amrit Yojna, old age pension, etc.
He was accompanied by Lakhimpur Lok Sabha MP Pradan Baruah and Dhemaji MLA Ranoj Pegu.
The foundation laying programme was also attended by MAC's Chief Executive Member (CEM) Paramananda Chayengia, other EMs, the high-level officials of the district including Deputy Commissioner Roshni Aparanji Korati.