Four MLAs in Meghalaya resigned as members of the Assembly and joined the BJP, with over a month left before going to fresh Assembly polls.
The MLAs who jointly submitted a resignation letter to Assembly Speaker here on Tuesday, include Congress MLA, A L Hek from Pynthorumkhrah constituency, Independent MLAs, Robinus Syngkon from Mookaïaw constituency and Justine Dkhar from Khliehriat constituency, and two-time NCP MLA from South Shillong constituency, Sanbor Shullai.
Few minutes after resigning as members of the Assembly, the four MLAs joined the BJP at a function organized at Golf Link, which saw thin attendance of supporters.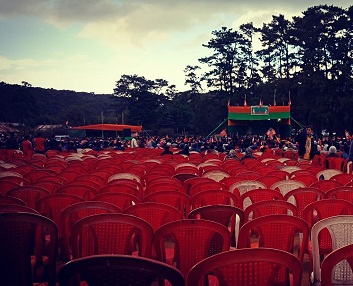 Hundreds of chairs remained empty at the function.
So far, a total of 13 MLAs – seven from the Congress, four Independents, one NCP (all supporting the Congress-led government), and one opposition MLA of the United Democratic Party have resigned.
The 60-member Assembly was now reduced to 47 members.
For Hek, who won on Congress ticket only once in the 2013 Assembly polls from Pynthorumkhrah, joining the BJP was like home coming as he (Hek) got elected from Pynthorumkhrah thrice on BJP ticket from Pynthorumkhrah in 1998, 2003 and 2008 Assembly polls.
Hek termed the Congress his "wife's house" and the BJP his "parents' house."
Sanbor Shullai, who was the NCP state president and two-time MLA from South Shillong, and the two Independents- Syngkon and Dkhar had won for the first time in 2013.
Besides Hek, Shullai, and the two Independents have been supporting the Congress-led government for five years since 2013.
He said that politically, he was born in the BJP, and now he was back to the BJP his parents' home, even as he pledged that he would not go back to his house's wife (Congress).
BJP leaders comprised of national general secretary in-charge Northeast, Ram Madhav, BJP national spokesperson and in-charge of Meghalaya, Nalin Kohli, Union minister of state for tourism also election in-charge of Meghalaya, Alphons Joseph Kannanthanam and other BJP leaders were present at the function to welcome the four MLAs.
Meanwhile Assam health minister Dr Himanta Biswa Sarma who is also the convenor of NEDA (North East Democratic Alliance) said that BJP would gain experience from the experiences of the four MLAs as the party is gearing up to bring change in Meghalaya. "We welcome Meghalaya MLAs A L Hek, Sanbor Shullai, Justine Dkhar and Robinus Syngkon in BJP. BJP will tremendously gain from your experiences as we get ready for change," Sarma twitted.