The former Chief Minister (CM) of Assam, Tarun Gogoi, bid adieu to the Chief Minister's official residence atop Koinadhora Hill in Guwahati on Friday (read along with his family) where he had been putting up for the last 17 years.
Gogoi, former three-term CM and now an MLA, has since shifted to his new residence, M-7 Ministers Colony, adjacent to the secretariat in Dispur area of Guwahati, which has been allotted to him. The former CM was living in the Koinadhora residence since 2001 after he took over the reins of the State from the then Asom Gana Parishad (AGP) Government.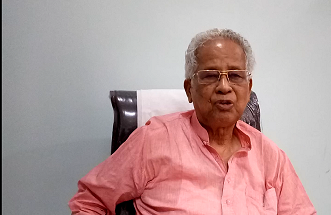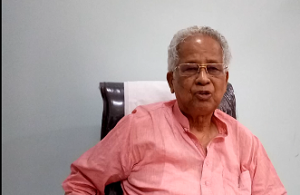 Reminiscing the moment he first started staying in 'Koinadhora' with his family, Gogoi said, "The house has proved to be very lucky for me. When I had taken over charge from the AGP in 2001, the Treasury was empty, development works could not be undertaken and salaries of Government employees could not be paid on time. At that time, insurgency was also at its peak in Assam and incidents such as bomb blasts and killings used to take place at night. But, slowly, things started improving and the economic condition of Assam also started looking up. It is in this conference room of the house that I held meetings with national and State ministers and officials."
The octogenarian leader also considers 'Koinadhora' lucky because it is during his stay in the house that he became the CM of Assam for three successive terms. Strolling on the lush green lawns of the property for the last time, a visibly emotional Gogoi told reporters, "There have been some great memories associated with this house. Both my children grew up here and my grandchildren loved to play on the ground inside the compound of the building."
Gogoi hoped that the "new home" to which he was shifting would also bring "good luck and fortune to me and my family". He concluded by saying, "One thing is for sure, the new house at Minister's Colony will give me greater opportunity to get closer to the people."
The Koinadhora Guest House was built in 1976 during the Congress Session which was held in Guwahati (then Gauhati) on November 21 and 22 in the same year and which was attended by the then Prime Minister of India, Mrs Indira Gandhi.