'Ebaku Bishu' or the Bohagiyo Bisu of the Deori community was celebrated with traditional fervour and gaiety across Lakhimpur district.
Observed on the first Wednesday of the Assamese month of Bohag, the Ebaku Bishu this time was celebrated on the same day being April 17.
The festivities began with offerings at various Thaans of the Deori communities across the district and ceremonial bathing in the morning of the day.
'Suwasani Puja' was also observed on the occasion in Deori households for the welfare of the members of the family.
Also read: Rongjali Bwisagu celebrated in a big way in Kokrajhar
After the distribution of the sacred water from the Thaans by priests Bor Deori and Deori Bhorali, the elderly people of the villages visited all the households and blessed the family members.
Traditional liquour Suzen and Kajii were served on that occasion.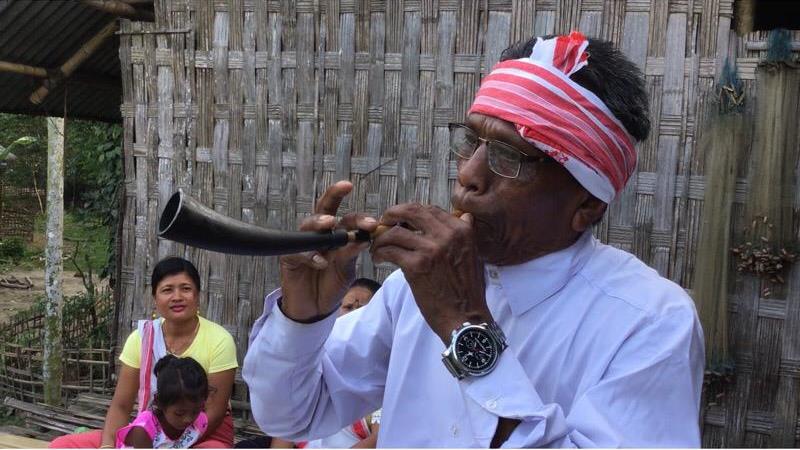 In villages like Borgoya Deorigaon, Bahngora Derigaon, Likhak Chapori and Kachikata in Bihpuria and Narayanpur region of Lakhimpur elaborate arrangements were made for Chhaje Khula, places which are situated either isolated from the village or middle of the village where Husori were performed by the youth which began with a declaration by Deori Bharali following offerings at Thaans.
The women of the community organized egg fights during the Bihu. Youngsters also revelled in mud game smearing mud on each other with great fun and enjoyment.
Youths wearing Ikhoon and women adorning Ujaduba Igoon, Jokachhiba, Tegihra and Gathiki participated in Husori performances during the festivities.
The hallmark of the festivities were the prolonged performance of "Pepa" (pipe play) on buffalo horn pipe by nationally acclaimed Derori cultural exponent Chandra Kumar Deori (65) in Bordeori village in Narayanpur which attracted large crowds.