Nonstop rain over the whole of Barak valley has dampened the festive mood. Himadri Sekhar Das, assistant secretary of Shyamaprasad Road Durga Puja Committee, in the heart of Silchar town, is busy trying to erect a pandal for people to throng this place, but, finding hard to do so. No wonder he is peeved, for his pandal maker is not reachable at the moment, and the downpour for the past two days, has not helped him either.
The same is the case of 300 odd pandals of Silchar town and close to 1000 pandals of the three districts of Cachar, Karimganj and Hailakandi. The cyclonic storm 'Titli' that has hit the coastal towns of Andhra Pradesh and Orissa, is heading slightly over Northeastern states, warned, the meteorological department.
Meteorological department officials, however, informed that weather is likely to clear up by the end of Monday for pandal hoppers to have a good time watching goddess Durga slaying the demon in all shapes and forms.
Ranjit Roy, president of Sonai Road Sarbajanin Durga Puja Committee, speaking to Northeast Now, said, "Rain has been a spoiler but we have kept the theme of making an ancestral palace as our exterior pandal with bamboo products, for which, we would be able to finish on time, no matter how much it rains. We are highlighting the agro economy of our region and even the idols of Goddess Durga and her entourages are completely made with clay, including their clothes and ornaments."
Dakshin Bilpar Sarbajanin Durga Puja Committee's secretary Tamal Chakraborty too voices similar worries, but, is hopeful of passing this wave of incessant rains. Talking to this correspondent, he said, "Our concept is very simple, yet, very attractive. Every year, whosoever dresses up to hop from one pandal to the other, doesn't forget to stop by this place. This year too, we have made an ancestral temple completely with 'barks' and 'leaves' of betel nut and coconut trees. The exterior as well as the interiors would reflect all of these materials in abundance."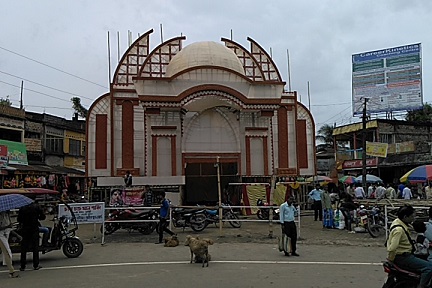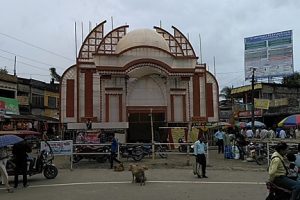 Not just the towns, pandals in rural and sub-divisional areas are also bearing the brunt. Udiyaman Sarbajanin Durga Puja Committee of Sonai, 20 kilometres from Silchar, is celebrating their golden jubilee. Organizers out here have decided to set up a pandal on the likes of 'Belur Math' of West Bengal. But, like any other place of this region, rain has spoiled their plans.
Satyajit Mishra, assistant secretary of this pandal talking to Northeast Now said, "No matter what and by the wishes of Goddess Durga, we would be able to finish, what we have started. Post our inauguration on Monday; we would distribute new clothes to 200 odd needy people of Sonai. Not only that, we have lined up cultural programmes for five consecutive nights as we would perform our 'bisarjan' of Goddess Durga on Sunday, instead of Friday next."
All eyes for now would be on the weather report for the next 48 hours, Himadri Sekhar Das, who is still frantically searching for his pandal maker said.