Grime coated edifices and defaced busts of great Assamese personalities adorning parks here got a scrub down on Wednesday.  Courtesy: the Mahapurusha Madhabdeva Foundation.
"Parks are often beautified with statues, busts and monuments but it is a shame that within a year of the installation ceremony they become dirt ridden and eyesores," Ratul Baruah who heads the Foundation said.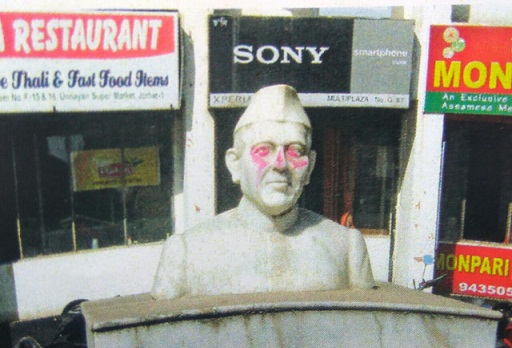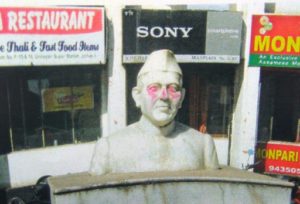 Pointing out to the red paint smeared bust of Kuladhar Chaliha lying neglected in the premises of the Unnayan Bhawan which houses the Jorhat Municipal Board, Baruah further said that it was an insult to these great people who gave so much to the state and town.
"We make a show of reverence and honour them by installing their statues and busts and then conveniently forget about them, he said.
Kuladhar Chaliha, after passing the Assam Civil Service joined as extra assistant commissioner in Assam but renounced his job opposing British policies. He joined the Indian National Congress and jumped into the freedom struggle along with Mahatma Gandhi after the Jallianwala Bagh massacre and was jailed for one year here. He was twice speaker of the Assam Legislative Assembly and also of the Constituent Assembly.
Likewise the bust of Nilomoni Phukan, freedom fighter, writer, educationist, social worker and politician, lies grime laden at the Bagmibor Koka Nilomoni Phukan Bhawan now housing a milk cooperative.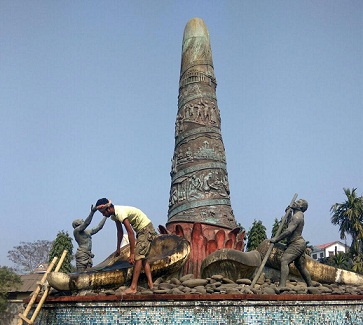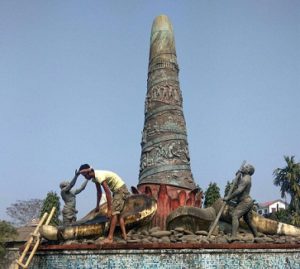 The bronze edifice at the Millenium  Park which has turned bluish green due to weathering got a scrub down by municipal workers who were roped in for the cleanliness drive but could not achieve that sheen.
The Millenium Park which is Jorhat's pride had turned into a popular spot for tipplers after sunset despite being located at the busy Baruah Chariali.
The Park, however, is expected to get a makeover and more installations narrating the 200 year history of the town, with Jorhat MLA Hitendranath Goswami sanctioning Rs 10 Lakh for the purpose.
Till then organization like Mahapurusha Madhabdeva Foundation which will be needed to initiate such drives and collaborate with the Jorhat Municipal Board to keep the Parks glory alive.