Members of the Assam Congress legislature party are seeking an audience with Assam Governor Jagdish Mukhi to apprise him of the Assam Women's University issue and ask him to take concrete positive measures so that the University can forge ahead with renewed vigour.
Nazira MLA and leader of the opposition in the State Assembly Devabrata Saikia told Northeast Now that they were seeking an appointment with Mukhi on Monday afternoon to discuss two issues,  one being the Assam Women's University and the other being NRC.
Saikia was flummoxed as to why the recommendations of the four-member committee constituted by the department of higher education and submitted to Ajay Tewari, Principal Secretary,  department of higher education,  Dispur on June 13, 2017 were not implemented and why this turnaround now.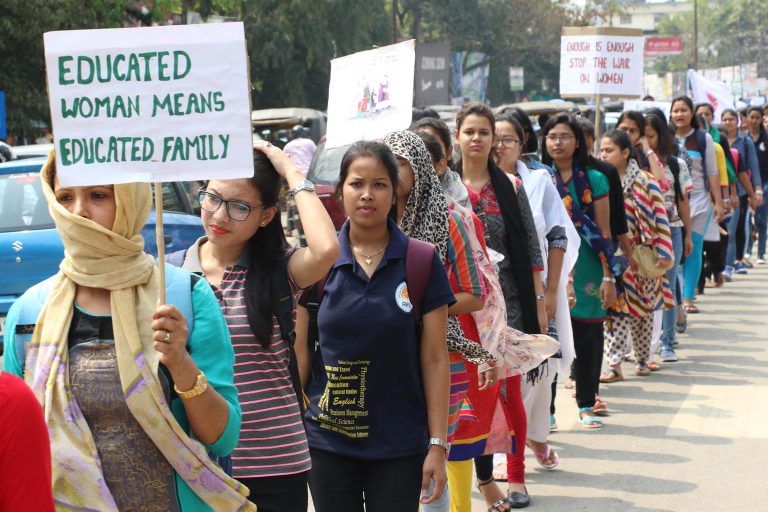 "In the absence of a permanent vice chancellor, Chief Minister Sarbananda Sonowal is in charge as chancellor and in the court he had attended he had assured that a vice chancellor would be appointed and academic council put in place so that the University could function properly, so what is this talk of a technical institute," Saikia said.
Today the Satra Mukti Sangram Samiti of Jorhat Central College and students of DCB Women's College students union formed a human chain in protest against the state government's proposed move to do away with Assam Women's University and replace it with a technical institute or an Institute of higher studies, as stated by state Education Minister Himanta Biswa Sarma to the media and elsewhere.
The protests entered the fifth day on Friday after the students did a two-day hunger strike on March 19 and 20.
Johat district unit president of Satra Mukti Sangram Samiti, Bhoirob  Borah its working president Chinmoy Gogoi,  joint secretary Kallol Saikia,  DCB College students union general secretary Debashree Bora,  former general secretary Alpana Das and social welfare secretary Debjani Rajkhowa were among the protesters who shouted Chief Minister Sarbananda Sonowal murdabad and education minister Himanta Biswa Sarma murdabad and condemned the move which had made the Beti Bachao, Beti Padhao initiative of the Centre into a farce.
A memorandum was also submitted to the chief minister in this connection.  Bhairob Bora in his speech demanded appointment of a permanent vice chancellor and improving infrastructure and other measures to make the University a full-fledged one.
Debashree Bora stated that until the government came clean on the issue, the students would continue agitating.