The Arunachal Pradesh Catholic Association (APCA) has withdrawn the "prayer to vote", which it had issued to the Christians of the state to vote for former Chief Minister Nabam Tuki in the Lok Sabha elections.
After being slapped with a show cause notice by the Election Commission for issuing a "prayer to vote", the APCA on Sunday evening decided to withdraw the diktat with immediate effect.
While Tuki has been fielded by the Congress as the party candidate for Arunachal West Lok Sabha seat, sitting MP and union minister Kiren Rijiju is the BJP nominee for the seat.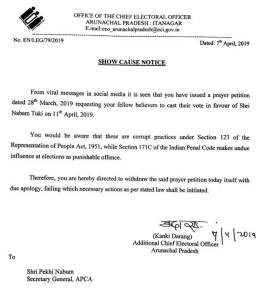 The additional chief electoral officer of Arunachal Pradesh had served a show-cause notice to the secretary general of APCA, Pekhi Nabum, for issuing prayer petition. The APCA had issued the notice on March 28.
The prayer from the APCA read: "APCA appeals and requests all the parishes and catholic churches in Arunachal Pradesh to pray for Nabam Tuki, who is contesting the Lok Sabha elections from Arunchal West parliamentary constituency. He is the pillar of Catholic churches in the state".
"From viral messages in social media it is seen that you have issued a prayer petition dated 28th March, 2019 requesting your fellow believers to cast their vote in favour of Shri Nabam Tuki on 11th April, 2019," additional CEO of Arunachal Pradesh, Kanki Darang, said.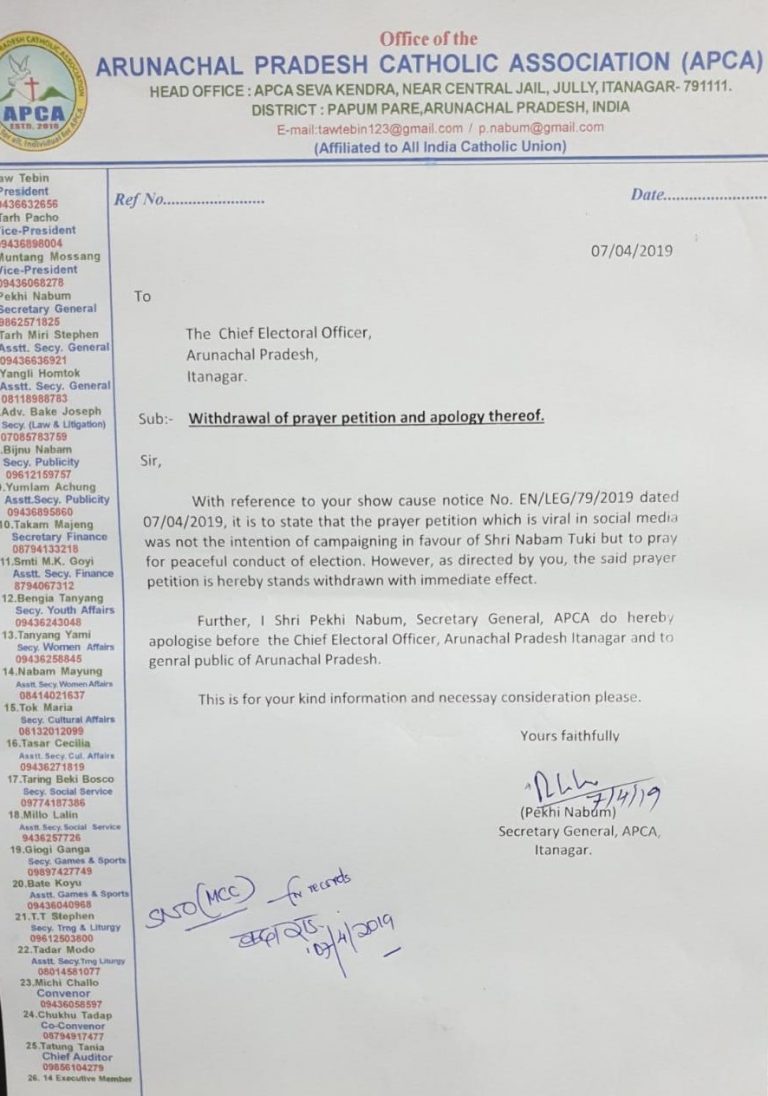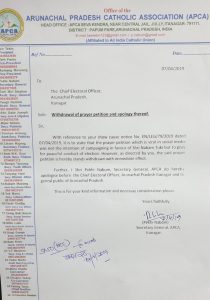 Darang stated that these are "corrupt practices under Section 123 of the Representation of People Act, 1951, while Section 171 C of the Indian Penal Code makes undue influence at elections as punishable offence".
Directing the APCA secretary general to withdraw the appeal on Sunday (April 7, 2019) and apologise accordingly, Darang warned Pekhi Nabum that if he fails to abide by the directive, "necessary actions will be initiated".
Immediately after receiving the show cause notice, the APCA secretary general in a letter to the EC stated that the prayer petition was not written with the purpose of campaigning for Tuki but to pray for peaceful conduct of elections.
Pekhi Nabum, through the letter, also apologised to the CEO, Arunachal Pradesh, and the general public of the state. He also said the prayer petition was not to hurt the sentiments of the people and that the church association issues prayer petitions whenever there is a necessity and when someone is starting a noble work.
Union minister of state for home affairs Kiren Rijiju also protested against the prayer petition of APCA.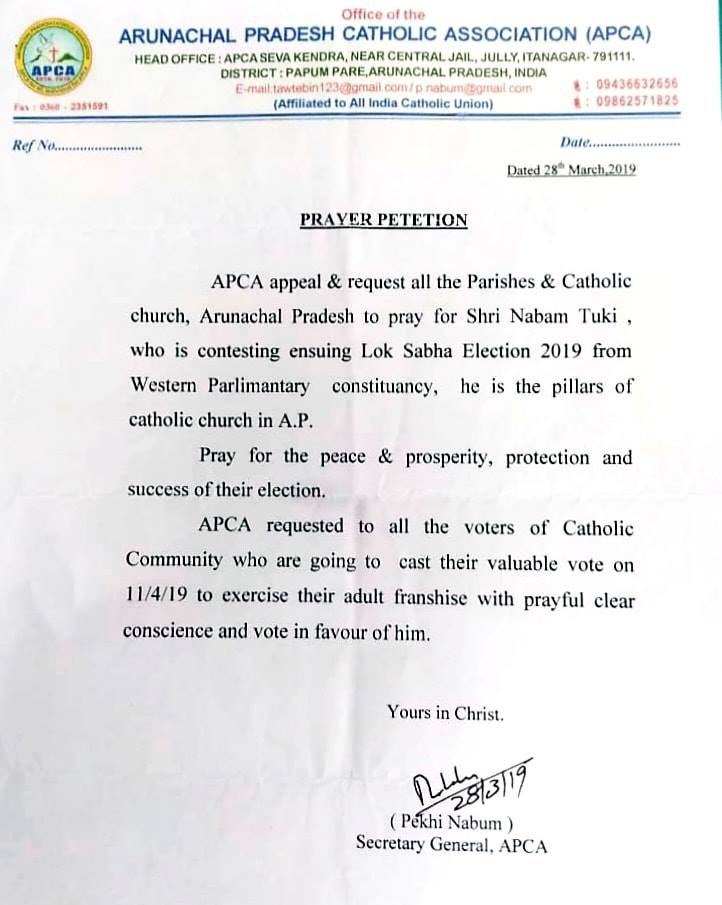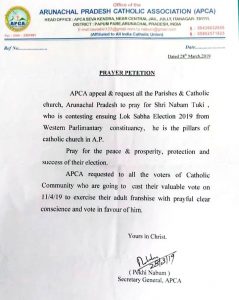 Rijiju while sharing a copy of the letter signed by the secretary general of APCA, on his Facebook account, stated: "This is not proper. We all are children of the GOD who never discriminates. Democracy is system in which the government is elected by the people."
"I've always served the people with full sincerity. I help all the believers and religious organizations. If anyone has doubt, please contact most Reverend Bishop PK George to know about my contributions. Please pray for me and everyone," Rijiju said.