Lok Sabha MP Ninong Ering has drawn the attention of Prime Minister Narendra Modi over the alleged intrusion of Chinese Peoples' Liberation Army (PLA) troops in the upper Dibang Valley district of Arunachal Pradesh.
Around 11 Chinese PLA men dressed in camouflaged Army fatigues were reportedly spotted in Upper Dibang by local villagers who had gone out hunting.
The locals had reportedly clicked photographs of the intrusion and alerted the Indian Army and local administration. It is believed that the intrusion took place about five-six days ago.
The incident comes almost 16 months after Chinese troops entered Doklam region, claimed by both China and India's ally Bhutan.
The standoff resulted from the incursion had caused a major rift between two nations.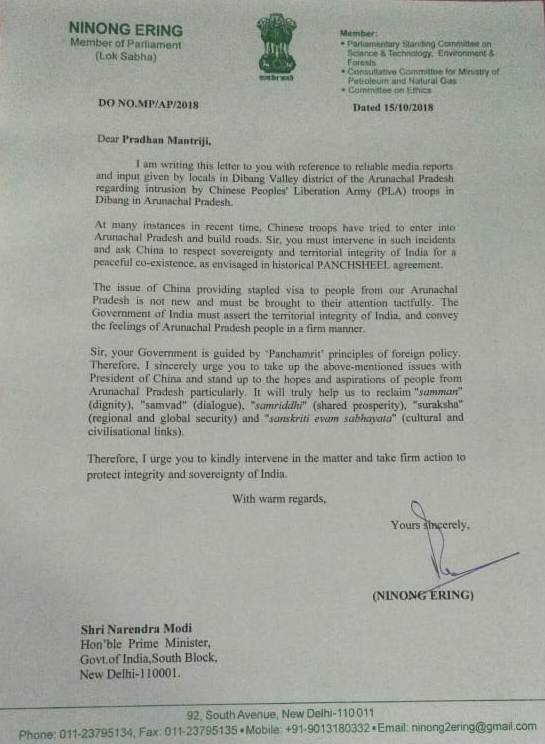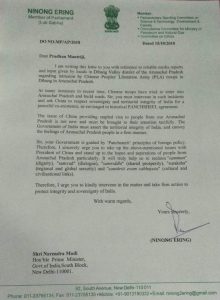 MP Ering in a letter addressed to the Prime Minister on Monday said, "There have been many instances in the recent time where Chinese troops have tried to enter into Arunachal Pradesh and build roads. Sir, you must intervene in such incidents and ask China to respect sovereignty and territorial integrity of India for a peaceful co-existence, as envisaged in historical "Panchsheel Agreement."
Also bringing up the stapled visa issue, Ering added, "The issue of China providing stapled visa to people from our Arunachal Pradesh is not new and must be brought to their attention tactfully. The Government of India must assert the territorial integrity of India, and convey the feelings of Arunachal Pradesh people in a firm manner."
China still issues stapled visa to the citizens of two Indian states i.e. Arunachal Pradesh and Jammu and Kashmir but the same is not applicable to the residents of other states of India.
The Chinese government still considers Arunachal Pradesh as part of Tibet and China.
According to China, citizens of Arunachal Pradesh do not require a visa to travel to their own country i.e. China, but the area of Arunachal Pradesh comes under Indian possession, hence Stapled Visa or Nathi Visa is issued for Arunachalee people.