BJP leadership seems to have gone over-excited regarding the forthcoming elections in Northeast, particularly in Arunachal Pradesh.
BJP national general secretary, in-charge of Northeast Ram Madhav on Tuesday tweeted that BJP candidates Er Taba Tedir and Sir Kento Jini won 'unopposed' from Yachuli and Alo East Assembly constituency respectively.
"Victory March of BJP starts from Arunachal Pradesh: Sir Kento Jini has won (uncontested) from Alo East constituency," Ram Madhav tweeted today.
"Another victory also from Arunachal Pradesh:
Er Taba Tedir won unopposed from 16 Yachuli Assembly segment," Ram Madhav tweeted again on Tuesday."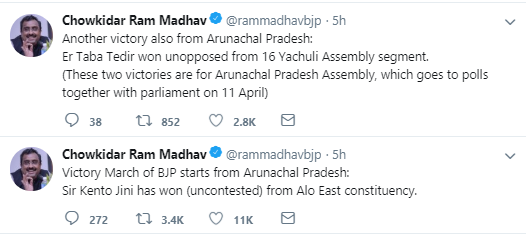 However, when contacted Yachuli district election officer, C Takar termed the BJP claims as 'untrue' as the district election office has extended the time for scrutiny of nominations filed till 10 am on March 27.
"So far there are two candidates who have filed nominations — one from BJP and another from JD (U).  The time for scrutiny has been extended till 10 am tomorrow. So, the final decision will take place on tomorrow only," said Takar while talking to Northeast Now.
Similarly, the district election officer of the Alo East constituency Swatika Sachan told Northeast Now that although there is only one valid nomination received so far in the constituency, "we can declare it only after 3 pm of March 28 which is the last date for withdrawal of nominations."
"We have received only one valid nomination filed by Kento Jiji in the constituency. However, we cannot make any announcement till 3 pm of March 28," Sachan said.
It may be mentioned here that the BJP general secretary and in-charge for Northeast during a press conference in Guwahati recently claimed that Arunachal Pradesh is going to have the first elected BJP government in the hill state.
The Lok Sabha polls and Assembly polls will be held in the State simultaneously on April 11. While there are two Lok Sabha seats in Arunachal Pradesh which are going to polls, elections to 60-member Arunachal Pradesh Legislative Assembly will also take place simultaneously.