Tripura Chief Minister Biplab Kumar Deb on Monday took part in a programme in remote Dhalai district for spreading awareness on the Prime Minister's flagship programmes for the development of the common people.
Deb along with Deputy Chief Minister and Finance Minister Jishnu Dev Barman, Sports Minister Manoj Kanti Deb, Chief Secretary Sanjeev Ranjan, Principal Secretary K Nagaraju and other dignitaries inaugurated the programme attended by hundreds of people of which large number were youths.
During the address, most of the speakers viewed that the Modi government at the Centre has come-up  with various programmes like PMEGP, PMGSY, PMKVY etc aiming at creating employment but unfortunately the previous Left Front Government in Tripura failed to aware the common people on them.
Beside central schemes, various other projects of the State Government like Tripura Rural Livelihood Mission which are funded by the Centre to help the rural masses were also discussed so that people could take benefit from them.
Chief Minister Deb criticizing the earlier government in Tripura viewed that intentionally they did not allow the common people to know about these schemes as their names have link with the Prime Minister.
Moreover, he added that the previous government feared that if the people of the State become self-employed then their government could not survive so they wanted the people to remain dependent on the government.
Deb said that unlike the previous government which has a negative mentality, his government want the people of the State to be self-employed and stand on their own feet and which is the wish of the Prime Minister.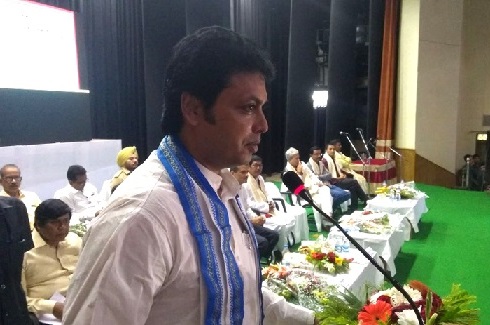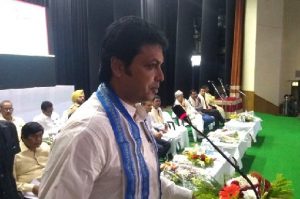 He also raised that why several insurances and pension schemes which are at very cheap rates and assured by the Central Government mainly for the poor section of people was not implemented in Tripura by the previous government.
Dev viewed that with awareness the common people shall now be able to get all the benefits of the various central schemes and which shall help to make Tripura into a model state in three years' time.
The participating banks also expressed that with such initiative of the Chief Minister, the common people shall be aware of the various schemes by which they shall be financially benefited especially through banks loans and various insurances and pension schemes.
On the occasion, a total 13 youths were provided loans under the MUDRA scheme from various banks beside a vehicle was provided for self-employment.
A total of nine banks including private, public sector, rural and state co-operative took part in the awareness fair to inform the aspiring loan seeks on the various schemes and projects under which they could get financial benefits.