Tripura Pradesh Congress slams chief minister Biplab Kumar Deb for addressing NEDA convenor and Assam minister Dr Himanta Biswa Sarma as 'Doctor of Northeast' during the 3rd conclave of NEDA in Guwahati on Sunday.
"Chief Minister Biplab Kumar Deb was caught amidst sycophancy as he tried to woo NEDA convener as 'Doctor of Northeast', which is most unbecoming of a CM," TPCC spokesperson Tapas Dey said.
Congress also condemned 'gross violation of ethics and norms of the office of an elected Chief Minister referring to official tweets of OSD to CM Biplab Kumar Deb on NEDA conclave.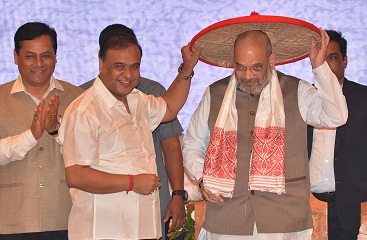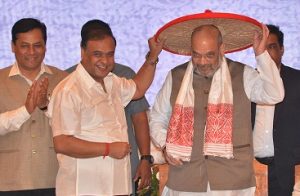 "Officer on Special Duty (OSD) Sanjay Mishra's official Twitter handle was found tweeting about Biplab Kumar Deb's speech at the programme. He also took the pain of making claims and counter claims with the Twitterati on the issue, which is strictly against the ethics and norms of his office," Dey said.
"Biplab Deb is the state president of a political party and has every right to make political statements on a non government platform like NEDA. However, Mr Mishra is a salaried OSD of the state government posted in the Chief Minister's Office (CMO) and is in no way entitled to make political statements," he added.
Dey further said, "We, at Tripura Pradesh Congress, feel that these are parts of an evil design to bring the government and political party on a single line and severely condemn the same, which is against the spirit of democracy and democratic norms."
Referring to Biplab Kumar Deb's official press release on May 17 on Karnataka election verdict, Congress criticised such statement made from the official capacity of a Chief Minister. "It has shamed us as a democracy, where elected governments are supposed to see all political parties and individuals as equals," the Congress spokesperson said.
Tripura CM in a press release on May 17 said, "This is the victory of every person of Karnataka who voted to uproot the corrupt and divisive politics of Congress party and its left allies", accusing Congress of "conspiracy" against BJP president Amit Shah. Congress termed the statement as 'blatant lies told with malafide intentions.'
Congress in Tripura also expressed surprise at how Tripura BJP spokesperson MK Deb could communicate venue and details of a government press conference on a cabinet decision through social media on May 19.
"Congress is at a loss to comprehend how the communication, which is solely at the discretion of government, has got to do with a political person," Dey said.