Chewing paan masala is fairly a new found addiction in India. But, the habit is not only causing health hazards, it is also seriously pinching the state exchequer. 
A detailed independent investigation carried out by Northeast Now has revealed that large consignments of dried betel nuts (mostly from Thailand and Indonesia) are smuggled into India through Myanmar without payment of any import duty.
The illegal trade in the far-east of India is estimated to be more than Rs 2,500 crore annually. Dried betel nut is one of the main ingredients of all varieties of gutka and paan masala. The pan masala market in India is huge, and is estimated at Rs 25,000 crore, and is growing by about 10 percent every year.
On September 17, 2017, Directorate of Revenue Intelligence (DRI) arrested Syed Ahmed Shaikh from Navi Mumbai and seized 240 metric tonnes of betel nut of Indonesia from his warehouses in Navi Mumbai and Nagpur.
On September 20, last year, Directorate of Revenue Intelligence (DRI) arrested a person named Mohammed Raza Abdul Ghani Tawar in Ahmedabad and seized a stock of 120 metric tonnes of smuggled betel nuts of Indonesia. The market value of the smuggled dried betel nut was estimated to be around Rs 6 crore.
Interrogation of Syed Ahmed Shaikh and Raza Abdul Ghani Tawar by the DRI sleuths revealed that they were a part of an international smuggling network which operated concurrently in Singapore, Thailand, Myanmar and the northeast Indian states of Mizoram and Manipur.
Most of the illegal consignments of dried betel nut is smuggled in through two Land Customs Stations — Zokhawthar in Mizoram and Moreh in Manipur. The smuggling network operates in connivance with security forces and enforcement agencies personnel, they confessed.      
Truck loads of dried betel nut smuggled in through Myanmar finds way to different gutka producing factories in Gujarat, Rajasthan, New Delhi, Uttar Pradesh, Maharastra and Haryana, senior enforcement officials investigating the case told Northeast Now.
According to Raza Abdul Ghani Tawar, some of his close associates are based in Gondia in Maharastra. The town has its location advantage as it is at the tri-junction of Madhya Pradesh, Chhattisgarh and Maharastra and is considered the gateway to Maharashtra from Central and Eastern India. The city has a busy railway junction.
Gondia is also known as "Rice Capital of India" due to the presence of large number of rice mills in the area. Because of the mushrooming of rice mills, Gondia has huge storage facilities, where a large portion of the smuggled betel nuts are stored. The smugglers subsequently tranship the betel nut consignments to the different gutka and paan masala factories in different states in Central India.  
Acting on a tip-off, the DRI on September 27, 2017, seized over 86,000 kg of betel nuts in 910 bags valued at Rs 2.6 crore, at Dhaleswar in Cachar district of Assam.
Why so much of demand for Thai and Indonesian betel nuts in India?
Bulk purchase of betel nut in Thailand and Indonesia can be made at a much cheaper rate. It ranges from $ (US) 200 to 300 per tonne. It comes to about Rs 13 to 16 per kg of dried betel nut at source. In India, the rate is much higher.  
Even after transportation from Thailand or Indonesia to Myanmar and bribes at different points, the landing price of dried betel nuts is cheaper for the gutka makers. Secondly, quality of betel nuts from Thailand and Indonesia are much better than the Indian ones, and does not have any black rot marks inside.  
Why not legal imports?
Legal import of betel nuts is more than 300 percent, and makes the smuggling more lucrative. The government has set a minimum import price (MIP) of betel nut to encourage domestic producers and discourage imports from the neighbouring countries. The minimum import price (MIP) is the rate below which no imports are allowed.
In its latest notification No.35/2015-2020, dated January 17, 2017, the central government amended the import policy of betel nut under Exim Code 080280 of Chapter 8. It was hiked from Rs 162 to Rs 251 per kg. Till June 2015, the MIP was Rs 52 per kg. The largest producer of betel nuts in India is Karnataka, followed by Kerala and Assam.
As per estimates, annual production of betel nuts has been stagnant at 6.3 lakh tonne over the last few years. India imported Rs 722.21 crore worth of betel nuts in 2016. Majority of the shipments came from Bangladesh.
How the smuggling racket operate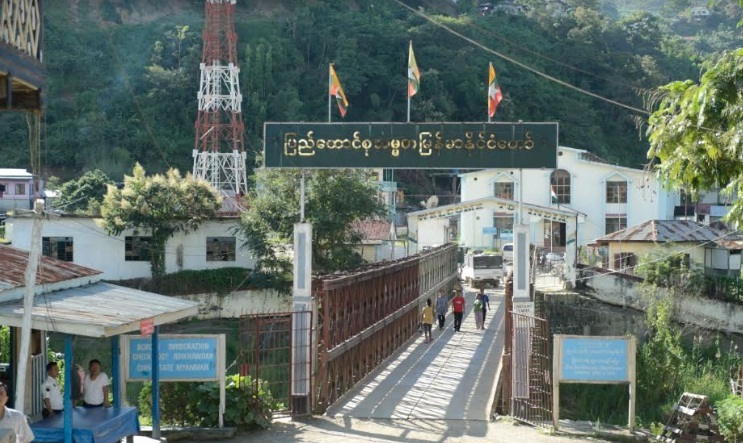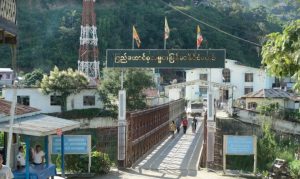 Organised networks are involved in smuggling of betel nuts through Mizoram and Manipur. The Khawmawi village in Myanmar, which is located on the east of Zokhawthar is the focal point of the smuggling network.
Betel nuts are ferried in gunny bags to Khawmawi on small pickup vans and transferred to Indian vehicles. The loaded Indian pickup vans cross the bridge over Harhva river even in broad day light and move towards Champhai for storage. It takes to more than an hour to travel to Champai, which is located 22.6 kms north-west of the border.
The border crossing of the illegally imported betel nuts take place with the blessings of some police and customs officials. On reaching Champhai, the betel nuts are shown as produce of the farmers of Mizoram. Issue of transit permits by the Mizoram Agricultural Marketing Corporation Limited legalise the smuggled betel nuts as genuine produce of the state.
Though Mizoram is a small producer of betel nut, there are many dubious suppliers in Aizawl now. Some of them are based in Chhinga Veng area of Aizawl. Some of the consignments are even shipped to the central India states in the name of the suppliers in Mizoram.  
While the arrested operatives always claimed that the seized betel nuts were produce of Mizoram and Manipur, laboratory tests conducted by the Plant Quarantine Department and other laboratories reported that the samples were of Thai and Indonesian origin.
Interestingly, seizure of two consignments of smuggled betel nuts by DRI from parcel vans of Kanchenjunga Express in Silchar and Badarpur railway junction in January this year has led to new findings in the investigation. One Shamimuddin has been identified as one of the operatives of the smuggling network.
Smugglers now also use Sealdah as a transit route for transhipping the illegally imported betel nuts to the central India states for manufacture of paan masala. Some of the transporters in Kolkata and betel nut suppliers in Kolkata are reported to be also part of the smuggling network.
So far, it was thought that some of the local transporters of Dholai and Bhaga Bazar in South Assam's Cachar district were involved in the network.
Manipur network:
While large portion of the Thai and Indonesian betel nuts are smuggled in through Mizoram, there is another network working in the northeast. From a series of raids, seizures and interrogations, it has come to fore that a strong betel nut smuggling network also operates in Manipur.
Consignments are smuggled into Manipur through Moreh in Chandel district. The high-demand betel nuts are carried on pickup vans up to Namphalong market in Western Myanmar, and are smuggled into India on head loads. Subsequently, these are loaded on trucks in Moreh and fake transport permits are issued.    
While some of the consignments are loaded in long-distance trains in Dimapur (in Nagaland), a strong network based in Bokajan in Karbi Anglong and Sarupathar in Golaghat district of Assam runs the betel nut smuggling racket. Four betel nut laden trucks were recently seized in Golaghat district. One Babul Ali is reportedly the kingpin of the smuggling network based in Golaghat and Karbi Anglong districts of Assam.
Assam government initiative:
Recently, the Act Implementation Committee of the Assam Legislative Assembly took cognizance of the reports of the betel nut smuggling network in Golaghat and Karbi Anglong districts. Deputy Commissioners and Superintendent of Police of both the districts were summoned in Dispur on the issue.
It has been reported that the DCs and the SPs claimed that the betel nuts were generally shown as produce of Manipur, and the trucks always carry transit permits issued by the Manipur government.  
There were reports on February 24 that Bidyut Saikia, General Secretary of Satra Mukti Sangram Samiti (SMSS), the students' wing of Krishak Mukti Sangram Samiti (KMSS) was kidnapped by betel mafia Abdul Hannan in Golaghat. Saikia had also lodged an FIR against Hannan Ali in this regard at Golaghat Police Station.