Union Water Resources Minister Nitin Gadkari will lay the foundation stone of a new scheme in Majuli on December 29 for protection of the river island. The Brahmaputra Board has undertaken the scheme for the protection of Majuli island from flood and erosion with an estimated cost of Rs 233.57 crore. The scheme has been sanctioned by the Central Government.
''To protect Majuli from erosion, Government of India is monitoring and recommending anti-erosion measures for the island through a high level expert committee which visits the island at least twice a year," a Brahmaputra Board official told Northeast Now.
The official further added, The funding for the project would be from Ministry of DoNER. Major components are bank revetment with geo bags filled with earth / sand for a reach length of 27 km in 14 locations, RCC porcupine works in 41 locations, construction of a sluice and construction of a pilot channel for a length of 3.50 km.
In appreciation of the positive results, Government of Assam has decided to entrust several new works to Brahmaputra Board. This includes protection from erosion at Neamatighat area near Jorhat, protection of Mikirgaon area in Morigaon District and protection of 3 locations on the right bank of Brahmaputra between Bogibeel bridge and Majuli Island.
Majuli District with an area of 1245 sq km, includes main Majuli Island. It is a river island in the Brahmaputra river, which has formed because of silt deposits. The soil is without cohesion and thus, susceptible to erosion.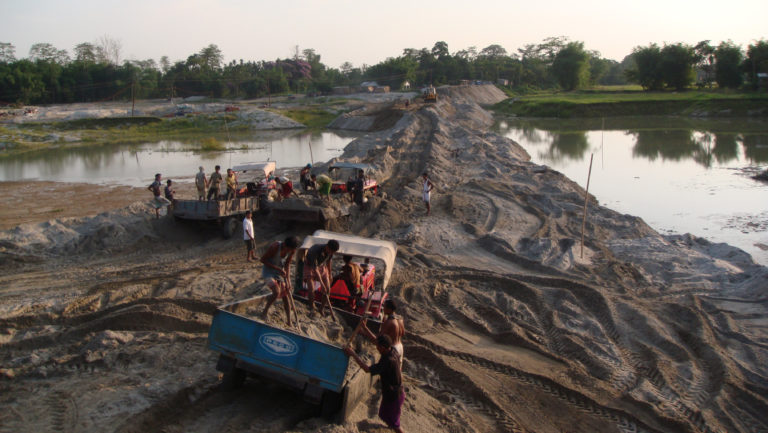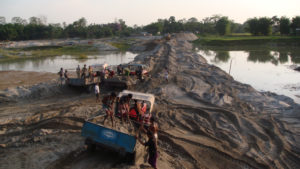 The problem of erosion has been severe after the disastrous earthquake of 1950. As per Survey of India, area lost by the island is 206.7 sqkm from the year 1949 upto the year 2004. Although some measures were taken in the form of embankment and anti-erosion work by Government of Assam, the problem of erosion and flood remained mostly uncontained.
Brahmaputra Board was initially requested by Government of Assam in 1999 to take up necessary measures for protection of the island. Work was started by Brahmaputra Board in January 2004 in four phases. The total expenditure incurred in these phases was Rs. 185.88 crore.
Major works carried out under these schemes includes raising and strengthening of 96.25Km embankment with breach closure at 24 locations, construction of noses of land spurs at Sonowal Kachari and Kandulimari, numerous RCC porcupine screens, spurs etc at erosion affected reaches, bank revetment for a length of 4.11 km at 4 locations and 5 numbers of raised platforms.
Before the protection work was taken up by Board, cultivation was impossible in many areas of the island such as Malowal-Malapindha during kharif. It was due to large numbers of breaches in the embankment. People suffered from flooding everyyear and 2.5 land was lost in a year.
Due to implementation of the anti-erosion and pro-siltation measures the situation of Majuli island has now reversed in most areas. Erosion in most of the vulnerable locations except for a length of about 10km along Brahmaputra could be contained due to these measures.
Judicious laying of porcupine screens encouraged heavy siltation and have brought about favourable changes in the river morphology and regime. Reclamation of land started and area of Majuli Island increased from 502.21 sq km in 2004 to 524.29 sq km in 2016.