A social play 'Ekhani Neela Sador' was performed at the concluding ceremony of the Art and Literary Festival- 'Arnaswat' at Kalaguru Bishnu Prasad Rabha Auditorium of Tezpur University on May 6.
The Art and Literary Festival 'Arnaswat' was celebrated to mark the silver jubilee of the university.
Muktismaan Hazarika and Tridisha Parashar jointly wrote the script and also directed the play 'Ekhani Neela Sador'.
Tridisha Parashar informed Northeast Now, "We were inspired by Meghna Gulzar's short film 'Pooranmashi' to write the script."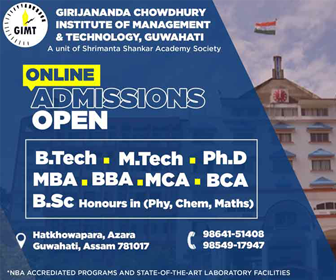 Churamoni Dutta was the music director of the play 'Ekhani Neela Sador'.
Barshapriya Dutta, Nibirjyoti Mriduta, Amborish Bordoloi and Abhishek Paul of the Tezpur University played lead role in the drama.
Talking to Northeast Now, Tridisha Parashar said, "The story is about how a gift changes the lives of a mother and daughter. The would-be-bridegroom of the daughter gifted a blue chadar (an Assamese traditional costume) to them, which brings a change to their life gradually. The story also portrays how people sometimes unintentionally create problems for their own with no option left to overcome."
The festival 'Arnaswat' began on May 4.
Dr Birubala Rabha, who is known for fighting against witch-hunting practise in Assam, was present as Chief Guest on the opening ceremony of the festival.
Tridisha Parashar is currently pursuing post graduate degree in the department of Cultural Studies and Muktismaan Hazarika is a student of department of Mass Communication and Journalism.