In a devastating fire a running city bus was burnt to ashes in the Jalukbari area of Guwahati in the morning on Monday. However, all the passengers, the driver, conductor and the handyman remained safe.
As per information, a Panjabari-bound ULTRA city bus named 'Ma Lakshi' (AS 01-FC-1560) caught fire at around 10.40 when it was on the way from Jalukbari towards Panjabari near the Railway Overbridge in Jalukbari.
Jalukbari Police informed that the bus caught fire due to some technical snag in the engine of the bus.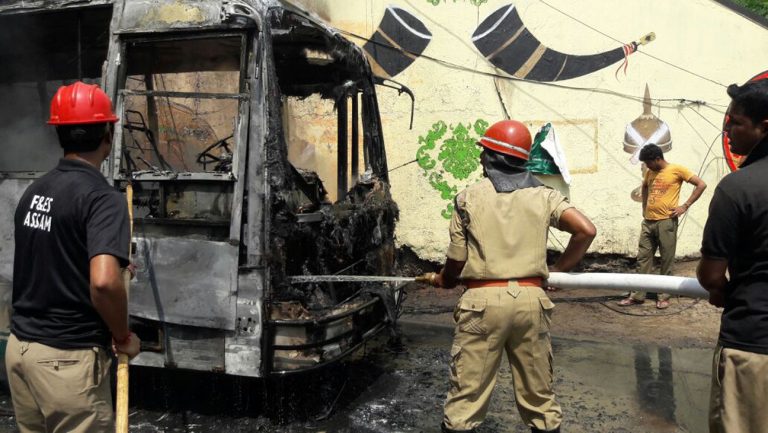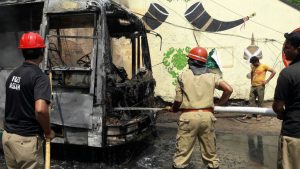 Police said, as soon as some passengers witnessed smoke in the bus, the passengers sensing danger got down from the bus. There is no report any person being hurt.
"It was around 10.40 am. After boarding at Jalukbari, I was sitting in the bus near the Railway Overbridge to go towards my college near Zoo Road. Suddenly, I saw smokes coming out of the engine of the bus. Sensing danger, I immediately asked the driver to stop and started to move towards the door of the bus to get down and also alerted other passengers. Then all the passengers followed me. After that, the fire engulfed the whole bus within a short time," Jintu Lekharu, Assistant Professor of Kanya Mahavidyalaya at Geetanagar in the city, a passenger of the bus, told Northeast Now.
Lekharu had to drop the journey towards her college as the police closed the Jalukbari-Adabari route after the incident for safety.
There were 15 to 20 passengers in the bus.
The fire was later doused by the fire fighters.