Assam Chief Minister Sarbananda Sonowal on Thursday made a fervent appeal to the members of the Council of Boards of School Education in India (COBSE) to display integrity, exemplary skill and diligence in conduct of examinations to reinforce people's faith into the examination system in the country.
Inaugurating the 47th Annual Conference of COBSE at Assam Administrative Staff College in Guwahati, the chief minister also urged the board members to adopt most modern and advanced technologies for conducting examinations and moulding the system to suit the changing needs.
The Annual Conference of COBSE organized under the theme "Integrity in conduct of examinations" was hosted by Assam Higher Secondary Education Council (ASHEC) and Board of Secondary Education (SEBA), Assam and participated by chairpersons and members of as many as 62 School Boards and Councils of the country along with foreign delegates and academicians.
Appreciating the role being played by the School Boards in successfully and transparently conducting examinations over the years in the country, Sonowal said, "High School and Higher Secondary School leaving examinations have the most crucial and significant impact in the lives of the young generation. These examinations not only determine their career but also induce them with a sense of purpose in their life. Therefore, it is very important that members of COBSE display integrity, exemplary skill and diligence in conducting examinations so that faith of the people in the examination system gets reinforced."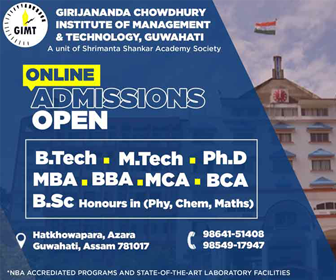 Urging the School Boards to move from the traditional style of examination system to the most modern and advanced forms, Sonowal made a strong pitch for using technology in the conduct of examinations.
Underlining Prime Minister Narendra Modi's vision for 'Youth Led Development' in the nation, he also advocated for adopting better strategy by the Boards for dispelling fear from the minds of students about examination.
COBSE president Asano Sekhose, who is also the Chairperson of Nagaland Board of Secondary Education, stressed the need for upholding integrity in Board examinations in the country.
Chairman of AHSEC Dr Dayananda Borgohain delivered the welcome speech. The inaugural ceremony was also addressed by SEBA Chairman Dr RC Jain.