The monsoon is yet to set in Assam causing widespread flood and erosion.
But the residents of Cachar district of Barak valley are already feeling the heat.
The bank of Barak River has dangerously eroded near Katigorah-Harinagar PWD road.
Several houses and business establishment had been washed away in the erosion on Friday.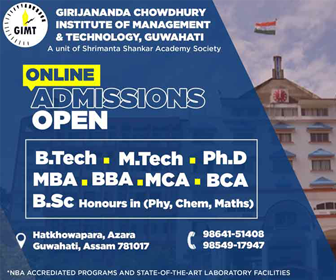 Even the whole Haritikar market is facing serious danger of sinking into the Barak River.
This has also giving the Border Security Force (BSF) personnel a headache as because the area falls very close to the International border with Bangladesh and it is very important to maintain the road connectivity smoothly.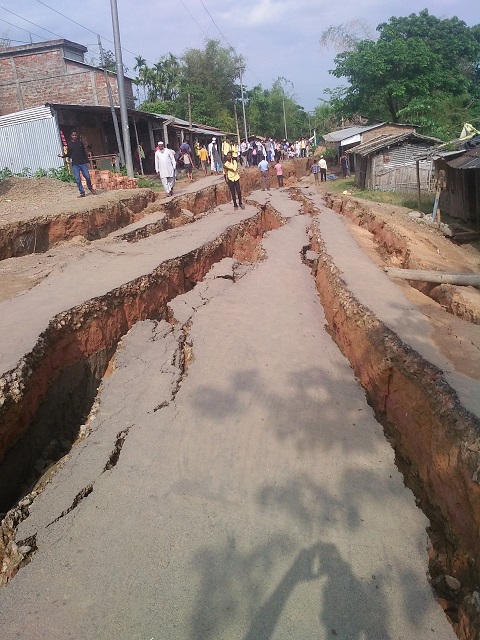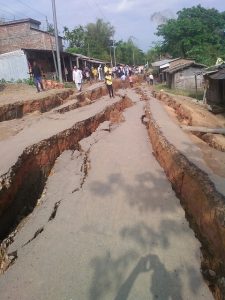 The Deputy Commissioner of Cachar, S Laxmanan visited the rifted site on Friday and ordered to make the road motorable within 24 hours.
During his visit the Deputy Commissioner interacted with the local people and tried to know about any irregularities if done during past rift repairing work by the concerned.
The Deputy Commissioner also scrutinized the role of Water Resource Department.
The local people mainly blamed that department for the entire disaster.
The Deputy Commissioner assured them that proper investigation will be initiated in this regard and the corrupt officials will not be spared from punishment.
Meanwhile, the local legislator of Katigarah, Amarchand Jain drew the attention of State Chief Minister Sarbananda Sonowal and urged the Chief Minister to intervene into the matter and give directive for corrective steps immediately.