Assam Governor Prof Jagdish Mukhi on Thursday inaugurated the three-day All India Sanskrit Conference on 'Sanskrit: The Inexhaustible Source of Knowledge' organized by Kumar Bhaskar Varma Sanskrit and Ancient Studies University under the patronage of the Department of Education, Government of Assam at Namati in Nalbari district.
Speaking on the occasion, Governor Prof Mukhi said, "As known to the world, India is the land of the Sanskrit language. It is a language with a vast stock of vocabulary and the most scientific grammar. For any beginner, the language may appear very tough and difficult. But flexibility is another notable aspect of this language and as such, scientists today have agreed that it is the most suitable language for communicating even through computer."
Referring to Anundoram Borooah who once said Sanskrit is clearer than any other language which has got its musical charm which no words can express, the Governor said that it (Sanskrit) is the mother of all languages which strengthens the edifice of all other languages.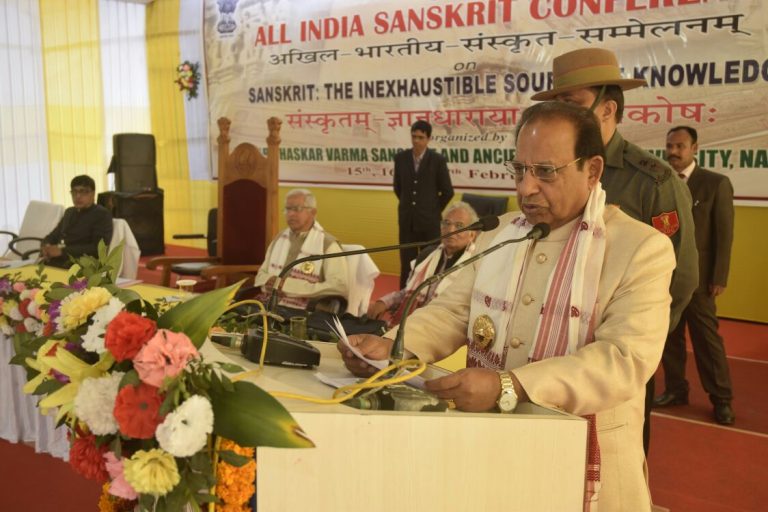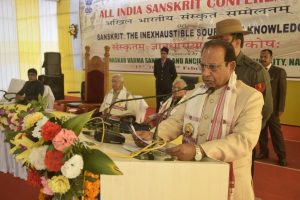 The Governor also said Sanskrit was the medium of Indian knowledge system. Right from the Vedas till the arrival of the Britishers, all branches of knowledge, irrespective of arts, humanities and sciences, flourished through Sanskrit.
He also said, "In this present time of ours, it is felt that values sustaining humanity are finding secondary importance as we are more focussed more on material progress. However, we are fortunate that we inherit a culture, based on Sanskrit which declared man as an offspring of immortality."
The Governor also hailed the efforts of Kumar Bhaskar Varma Sanskrit and Ancient Studies University for dedicating itself to Sanskrit learning and organizing the conference.
Former Vice-Chancellor of Rashtriya Sanskrit Sansthan, New Delhi, Prof Radhavallabh Tripathi delivered the key note address.
In his address he said that Sanskrit knowledge had continued to be an everlasting source of wisdom and a potent vehicle for intellectual discourses for more than three millennia. It has served as a repository of diverse knowledge systems.
Vice Chancellor of Kumar Bhaskar Varma Sanskrit and Ancient Studies University Dipak Sharma, Dinesh Kamath from Sanskrit Bharati along with a host of other dignitaries were also present in the inaugural function.