Lahorighat in Assam's Morigaon district has been witnessing rampant erosion for the last few months.
But allegations are rife that the Assam Water Resources Department, local administration or the State Government have turned a blind eye to the problem.
Several families of Tulsibari area in the region have lost their homes to erosion.
Now these homeless locals with their little ones and livestock have taken shelter on the road or the under-construction dyke even as the entire area is plagued by flood and erosion.
On the other hand, a huge crack has appeared in the newly constructed dyke and this has irked the locals who fear further devastation.
Locals have alleged that such sub-standard work was done because of the callousness of the administration and the unholy nexus between officials of the Water Resources Department and the contractors engaged in the construction of the dyke.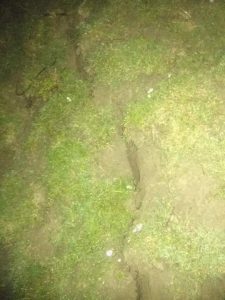 Notably, Assam Water Resources Minister Keshab Mahanta has visited Lahorighat and personally inspected the construction of the dyke.
The Minister also directed the Morigaon district administration to oversee that the construction work is done properly.
However, all these exercises have turned into bubbles in thin air as the northern part of Morigaon and Lahorighat are in the clutches of severe erosion.
The banks of the mighty Brahmaputra River are eroding in huge chunks with every passing day.
Several offices, both government and private along with residential houses of locals are washed away every day by the rampant erosion.
Meanwhile, an atmosphere of panic has gripped the entire region.