Assam Forest and Environment Minister Pramila Rani Brahma on Wednesday said to resolve the burning issue of human-jumbo conflict, rampant destruction of forests must be stopped.
"The encroachment of forest lands and elephant corridors has forced the wild animals to stray into human habitation leading to man-animal conflict," said Brahma while speaking at an awareness meet-cum-ex gratia distribution programme at Garuajhar in Udalguri district on Tuesday.
The Udalguri district in Bodoland Territorial Areas District (BTAD) has recorded a steady rise in incidents of human-elephant conflict over the past decade.
BTAD is one of the worst-affected regions which recorded death of as many as 81 human lives in the past five years in Udalguri district alone.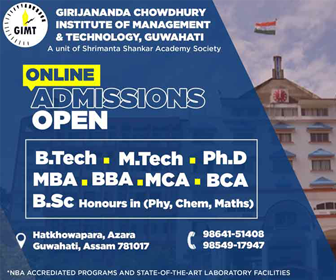 Adding to woes of the victimized families come the legal procedures that one has to go through visiting offices and also queuing for their turn to receive ex gratia compensation.
A total of 25 families whose kith and kin were trampled to death by wild elephants were relieved as they received cheques as ex gratia as compensation.
Out of the total 25 families of the victims, 18 families received cheques worth Rs 1 lakh each and 7 families received cheques worth Rs 4 lakh each.
On the other hand, 19 injured people received cheques ranging from Rs 12,000 to Rs 25,000 each.
The cheques were distributed by State Forest and Environment Minister Pramila Rani Brahma along with Assam PHE and Food & Civil Supplies Minister Rihon Daimari during the awareness meet-cum-ex gratia distribution programme.
Brahma further stated, "We have to resolve the issue by joining hands and taking up afforestration drives. For cutting of every single tree, we have to plant 10 saplings which will go a long way in resolving the issue."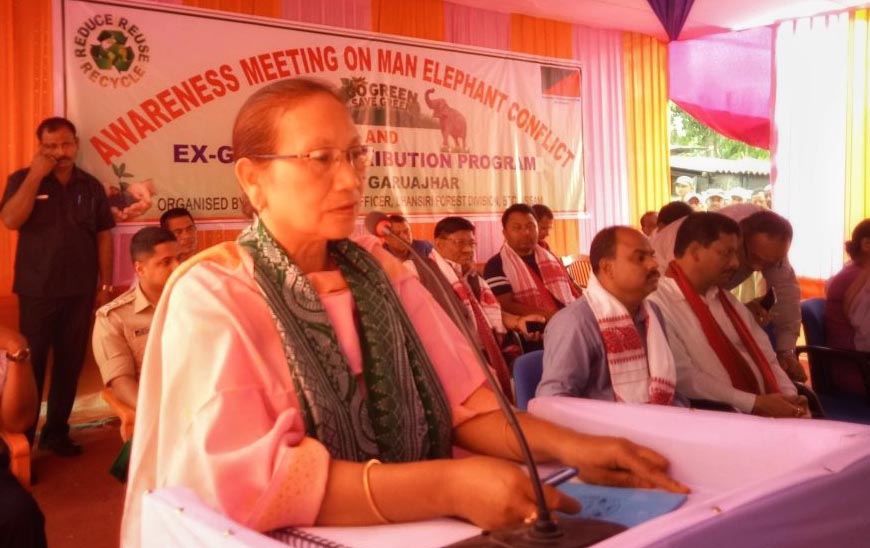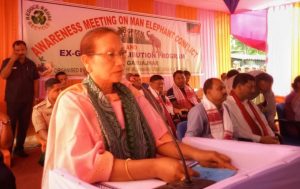 Forest Minister Brahma further proposed to erect solar fence near human habitats in vulnerable zones so as to prevent elephants from entering area of human habitat and agriculture fields.
She also mentioned about establishing a number of watch towers to track the movements of pachyderms.
The programme, where Divisional Forest Officer (DFO), Dhansiri Forest Division, Madhurya Kumar Sarma delivered the keynote speech, was inaugurated by Panery MLA Kamali Basumatari.
Minister Daimari participated the event as an appointed speaker.
In his speech, Daimari pointed out various strategies to tackle the man-elephant conflict and also interacted with the locals for their suggestions.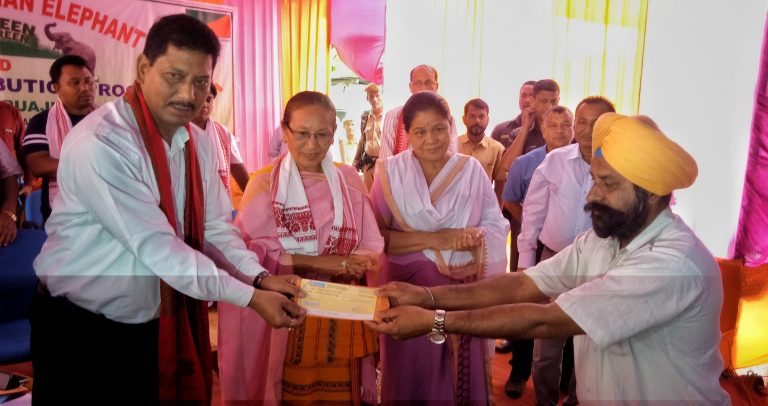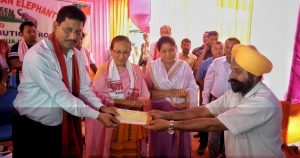 Participating on the occasion, senior journalist Samudra Gupta Kashyap also spoke on the issue of man-elephant conflict in Udalguri. He lauded the efforts of villagers of six villages along the Assam-Bhutan-Arunachal border at Bhairabkunda in Udalguri, who have successfully regenerated a stretch of barren sandy forest land.  The results of this quiet community initiative done under joint forest management (JFMC) are evident with the regenerated forest expanse of 5500 bigha already emerging as a shelter of wild animals and birds.
"Such initiatives should be adopted by people across the country," said Kashyap.
Kashyap also pointed out that besides wild elephants, wild boars and monkeys have also attributed to loss of human lives in Udalguri district along the Indo-Bhutan border in the recent past and strategies should be formulate to tackle it.
The programme was also attended by Bodoland Territorial Council (BTC) Secretary Robinson Mushahari, BTC EM Jagadish Sarkar, Nonai-Serfang MCLA Suresh Tanti, BTC Deputy Speaker Nerswn Boro along with a host of students and wildlife activists.