The Golden girl of Bollywood and Quantico star Priyanka Chopra on Monday wound up her three-day shoot for commercials here atop a specially designed ferry MV Rudra Singha in the middle of the mighty Brahmaputra.
The deck of the ferry was furnished with a reclining bed, an old gramophone record player and lamps and the below deck was converted to a green room.
Making her way through crowds waiting to greet her, Priyanka boarded the ferry at Nimatighat here at about 3.30 pm.  Reportedly, this shoot was scheduled for Majuli but due to time constraint the location was shifted to this side of the Brahmaputra.
Priyanka Chopra is brand ambassador for Assam and has been here since April 28 for a promotional shoot to bolster Assam's tourism.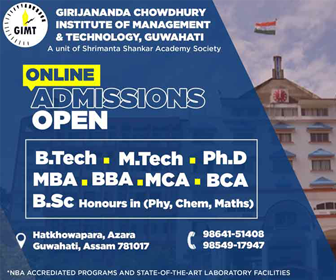 Earlier in the day she was picturised fishing in a pond at the Kaziranga Golf Resort and playing golf. Midway to the resort she made an unscheduled stop at Sangsua tea estate where she took several photographs of herself amidst the tea bushes.
At Kaziranga Golf Resort she was also filmed reading a book under a tree and partaking lunch which comprised of the cuisine of Assam.  It was also reported that prior to leaving for today's shoot, Priyanka prayed at the namghar at Thengal Manor, the heritage hotel where she was put up by the Assam Tourism department.
At the airport Priyanka said that she had enjoyed every bit of her time spent here and that Assam had much to offer to the world by way of culture, tradition, beauty, greenery and wildlife.
In an interview to a TV channel, Priyanka said that she had enjoyed Awesome Assam which had so much greenery, it was modern and that it had a vastness.
She said that she had come to this place about 10-12 years ago when she visited her uncle who had been in the Army and had always been impressed by its beauty.
She further said that she had loved the maasor tenga, which she had tasted twice in the past two days.  She also loved the mekhela sador and that she had bought two and been presented with one.
"Through my experience I would like the world to view what Assam has to offer," she said. She left for Mumbai at about 6.30pm by a chartered plane from Rowriah airport.
Yesterday's shoots included an elephant ride with a mahout,  riding a bicycle in a lane at Gotonga tea estate,  plucking tea leaves,  dancing the Bihu and being a gorgeous bride decked in a white and gold mekhela sador in the Soklang ceremony of a traditional Ahom community wedding.