Norway Ambassador to India Nils Ragnar Kamsvag on Monday evening called on Chief Minister Sarbananda Sonowal at Circuit House and discussed with him about collaboration in the field of agriculture, pisciculture, horticulture, power and issues concerning mutual interests of both Norway and Assam.
The Norwegian envoy told Assam Chief Minister Sonowal about his country's intensive research on raising climate resilient plant species to aid agricultural sector of his country.
Kamsvag expressed his keen interest in sharing the technology with Assam to help the latter to raise plant species to withstand adverse climatic conditions.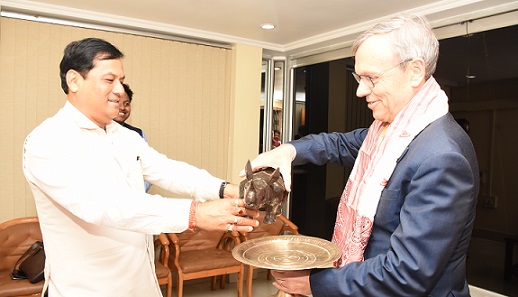 They also discussed Norway-Assam's mutual interests where investment is required for the benefits of both the geographical entities. The Norwegian Ambassador said that since Assam has immense potential for growth, he would convince the Norwegian companies to investment in Assam.
The Ambassador also vowed to increase mutual reciprocity programme with Assam.
Chief Minister Sonowal apprised Nils Ragnar Kamsvag of the State's potentials in the fields of tourism and hospitality industry, organic farming, small scale hydro-electricity, Information Technology, etc. where the scope of mutual reciprocity can be used to harness these sectors.
Minister of State for Labour and Employment Pallab Lochan Das was also present at the interactive meeting.