Bihu is Assam's most dearest of festivals and the pride of the entire community. As a celebration that identifies with the spirit and integrity of the Assamese race, the enthusiasm and fervour associated with Magh Bihu has a truly infectious energy that every Assamese holds in high esteem.
As a celebration that upholds the pride of the community, every Assamese waits with anticipation for their beloved festival to beckon the threshold. And though the festival of Bihu is celebrated with three different interpretations, the spirit embodying the festivities remains the same. Integrity and gratitude, fostered with a spirit of oneness and brotherhood rules this traditional celebration by the Assamese race.
Magh Bihu in particular, is a celebration of the bounty of nature's harvest, and an ode to the continuity of existence. It is only natural that Magh Bihu or Bhogali Bihu, as it is commonly called, is a rich celebration of the State's rich reservoir of traditional food and delicacy preparations. And while it is the spirit of bhog or feasting that rules this yearly rendezvous in the month of Magh, Bihu also necessarily has quite a few ritualistic traditions associated with it. Community feasting and community worship are both an integral part of the Bihu celebrations.
The Assamese Bihu celebrations are ubiquitous with pitha- pona- laroo and a host of other delicacies. In fact, pitha is so much an unique and indispensible tradition of Bihu that Bihu and pitha are often eponymous. The whole ladle of a typical Assamese kitchen are replete references of these traditional delicacies that are the trademark of the Bihu celebrations.
Pitha – The quintessential magh bihu delicacy
Pithas are traditional Assamese sweetmeats that are the most integral of delicacies that revs up the bihu feast. Prepared usually from rice flour and other indigenous ingredients, pithas are essential to the Assamese cuisinal culture. Nothing beats the chaska of a piping hot cup of Assam tea with a few pithas and snacks as accompaniment.
Til pitha
Rice flour, Bora rice flour in particular, baked on an open surface (tawa) steamed as rolled cylinders with a delicious stuffing of til (sesame) mixed with jaggery or sugar syrup.
Narikol pitha
Similar to til pitha with the filling of til inside the pitha replaced by a sweeter mix of grated coconut mixed with sugar syrup.
Tekeli pitha
Plain rice flour mixed with jaggery/ sugar/ coconut packed inside cloth pockets and steamed by placing them on the mouth of a kettle pot of boiling water makes this delectably wonderful mould of sinful delights.
Ghila pitha
Basically the great Indian malpua remade in the Assamese style with deep fried flattened rice flour which are immersed in sugar syrup to make yet another lip smacking sweet.
Sunga pitha
Assamese and north eastern cuisine has forever been attributed a uniqueness owing to the different methods of cooking. Cooking inside bamboos has been one uncommonplace specialty of different Assamese dishes. Even one variant of pitha undergoes preparation inside the humble bamboo. Known locally as sunga pitha, this bamboo prepared variant of pitha needs sticky rice flour being patiently baked on open fires after being stuffed into hollow bamboos.
Kholasapori pitha
Touted as the Assamese version of the dosa, kholasapori pitha is prepared with plain watery rice flour shallow fried on both faces in just a bit of oil. Served either savoury with aloo bhaji or sweetened with chunks of jiggery.
Lau pitha
Pithas made from a mixture of rice flour and grated gourd immersed in rich sugar syrup are so much an exclusively Bihu preparation in Assam.
Kolpat pitha
Rice flour and jaggery or mashed bananas steamed inside banana leaves make up this healthy yet delicious Bihu pitha.
Laru – The most favourite magh bihu delicacy
Coconut laru
Fried grated coconut mixed with sugar and shaped into balls is such a relished delicacy of the Bihu celebrations.
Til laru
Fried sesame seeds (til) mixed with jaggery and shaped into tiny balls.
Murir laru
Muri or puffed rice bound together with sticky jaggery syrup and shaped into humongous balls
Gura laru
Rice flour mixed with jaggery or sugar syrup and formed into balls.
Sandoh Guri – the taste maker of magh bihu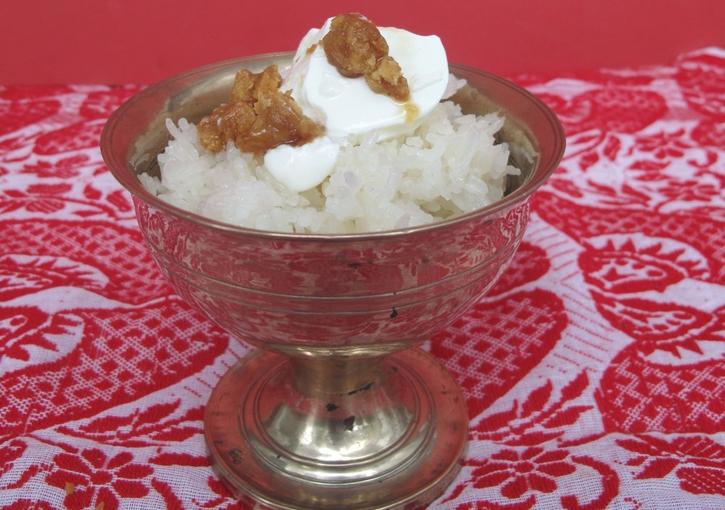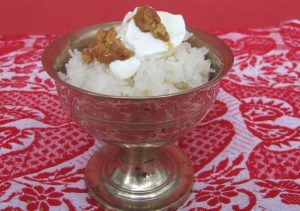 Rice flour obtained after grinding fried rice and consumed with milk/ curd, sweetened with jaggery or sugar as per your choice. Even with black tea, sandoh guri is a popular Assamese breakfast during and even after the feasting days.
Jolpan – The traditional delicacy of magh bihu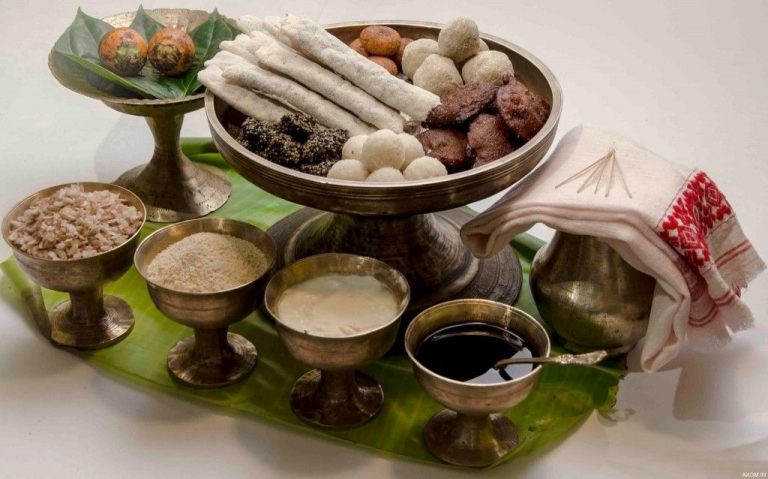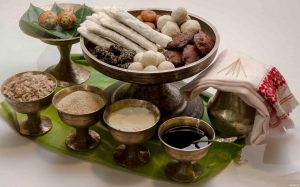 Whether it be soaked komal saul with curd/ cream and sweetened with bananas/ jaggery/ sugar or soaked bora saul cooked in milk and sweetened to arrive at a soft and chewy rice pudding or the more ubiquitous doi- sira- gur that is the hallmark of khati okhomiyas, breakfast options are never limited within the ambit of traditional Assamese cuisine.
Maah korai – The munching addiction of magh bihu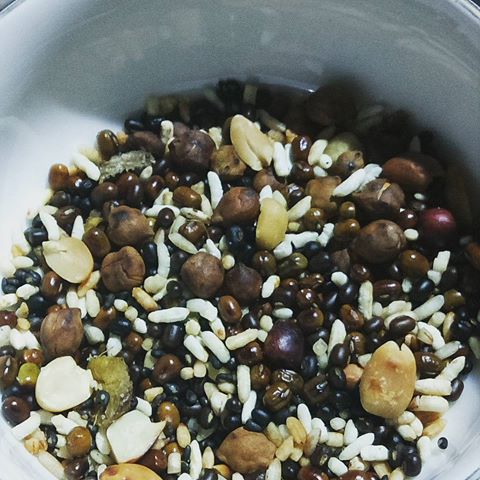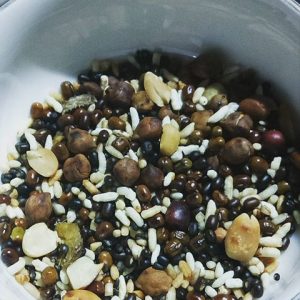 Soaked black sesame seeds, bora saul, gram or maah, boot (chana) fried and flavoured with mustard oil, ginger, salt et al makes up this crunchy munching delight that is so much of a delight to relish during chit chats in chilly winter evenings. An adda must have to relive the laziness and euphoria of the festive Magh bihu days.
Magh bihu traditions – meji, bhelaghar and the spirit of uruka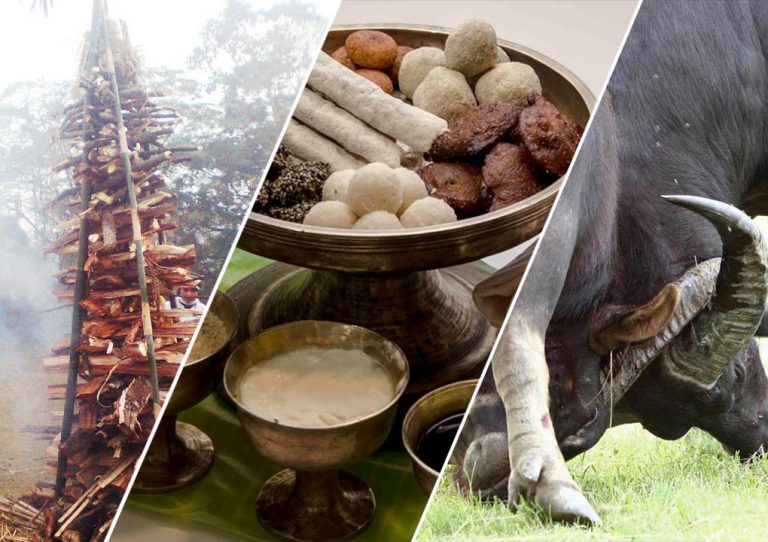 However, as much as Magh bihu is about feasting and gorging on delicacies, the community and celebratory spirit underlying this defining festival of the people in Assam is much more encompassing and evocative. One particular tradition associated with the Magh bihu celebrations is the Meji and the bhelaghar. As a festival that pays obeisance to the fire God and celebrates the rich harvest of the season, Magh bihu is a rich observance of culture and an expression of gratitude.
As a festival that harbours the greater interest of the Assamese community and celebrates a successful harvest, community feasting is the spirit that is at the heart of Magh bihu. On the day before Bihu, called Uruka, families and neighbour hoods get together to enjoy a wholesome, hearty meal in all merriness and warmth. A makeshift house of bamboo and straw usually houses the Bihu eve rendezvous. Called the Bhelaghar, the making of this house is in itself a fun affair. Days before the bihu celebrations are due, young people take active part as they go on collecting bamboo, straw and other necessities to shape up the traditional Bhelaghar. The Meji is also similarly erected by the people with meticulous dedication to be burned down on the day of Bihu.
As a scrumptious Uruka meal is relished by all alike as they embark on a new journey of friendship and warmth, in all enjoyment and brotherhood, this festival indeed does help in fostering a spirit of unity and compassionate togetherness. People enjoy till late into the night, preparing the Uruka feast while also sending delicious smells of freshly made pitha- laroos wafting into the air. The spirit of bonhomie and enthusiasm that grips the people during the celebrations is such a warm carrier of human emotions and reminds us of the firm truth that joy is indeed in the togetherness.
The day after Uruka is the dawn of the Bihu festival. People take early baths after getting up sometime into dawn and offer their prayers to the divine entity. This is followed by the ceremonial burning of the Meji and the Bhelaghar, as people offer the first pithas and an offering of maah, til and saul into the fire, as an obeisance to the fire God. It is only after all rituals have been taken care of that people feast on the Bihu delicacies of pitha- pona, laroo- sira. As an occasion of celebrating the bounty of nature, food rules rampant in the bihu festivities.
Bihu, like any other festival, is also the time when people visit their relatives and near and dear ones and celebrate with their friends. As preparations for Magh Bihu are on in full swing, it's perhaps apt to take a moment out from all the humdrum and relish this opportunity to express gratitude to the bountiful offerings that nature endows us with each year. Indeed it's the spirit of the Bhogali in the Bihu that makes it particularly endearing to the greater Assamese nation.