The lamp lighting ceremony of 2017 batch and graduation ceremony of 2013 batch of Army Institute of Nursing (AIN) was held at Brahmaputra hall of Narangi Cantonment on Monday. Lt Gen DS Ahuja, GOC 101 area was the chief guest. Prof (Dr) AK Adhikari, Principal cum Chief Superintendent of Gauhati Medical College and Hospital, Assam was the Guest of Honour. Maj Gen Arun Kumar, GOC 51 sub area and other senior officers from the army, Srimanta Sankaradeva University of health sciences and Gauhati Medical College and Hospital were also in attendance.
Army Institute of Nursing  was established in August 2006 as a Professional College under the aegis of Army Welfare Education Society. It was established for female wards of army personnel and civilians hailing from North East to meet the growing demand for professionally qualified nurses. Presently 208 students are undergoing BSc and MSc Nursing courses at AIN. It is recognized by Indian Nursing Council, New Delhi, Assam Nursing Council and affiliated to SSUHS, Assam to conduct four year BSc and two years MSc Nursing.
Kabita Baishya, Principal of the institute in her annual report said that the Institute once again had 100 percent placement record in prestigious hospitals of New Delhi, Kolkata and Guwahati during  campus recruitment. This is indicative of the high standards of training of the institution.
Col R Jayanthi and Principal Matron 151 Base Hospital administered the Nurses Pledge. Academic excellence awards were also presented at the ceremony. Mohini Ben received the COAS All Round Best Student award and Shital Kumari Pun received the GOC 101 Rolling Trophy for the Best Student in the Clinical Field. Somali Routh, Shital Kumari Pun and Mohini Ben received the gold, silver and bronze medal for taking first, second and third position in the batch respectively.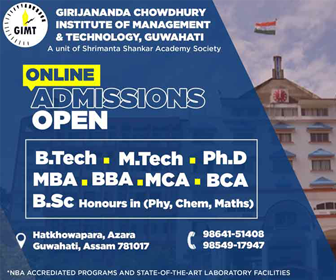 Addressing the students, Lt Gen DS Ahuja said, today nursing education means much more than merely acquiring knowledge. It is acquisition of skills in patient care keeping in mind the technological developments, building character, inculcating cultural sensitivity and improving employability of our young nightingales, the future nursing leaders. In his address, the Principal cum Chief Superintendent of GMCH, Prof (Dr) AK Adhikari said that career in nursing calls for high professional ethics, sensitivity and compassion towards patients which ensures that the process of treatment is a success.