The Central government has planned to set up south Asia's first tobacco testing laboratories in Guwahati besides Noida, Mumbai to test the contents of all tobacco products in the country.
The director of the National Institute of Cancer Prevention and Research (NICPR), Dr Ravi Mehrotra, and the new Director General of the Indian Council of Medical Research (ICMR), Dr Balram Bhargava, spoke about the need for laboratories — independent of private companies — to test what all and in what quantities ingredients go into tobacco products.
Speaking to the press at the launch of a report on smokeless tobacco on Wednesday, Dr Bhargava also floated the idea of tobacco cessation centres across the country with surgeons, psychiatrists, dentist on board.
Calling it a radical thought, he said these centres could be made mandatory and medical colleges without them could be de-recognised.
Bhargava added that he was taking his cue from the way drug resistant tuberculosis centres functioned across India.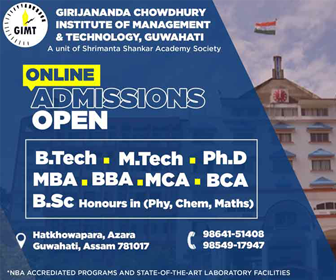 Tobacco cessation support — the process of quitting tobacco — and tobacco testing laboratories are both part of the WHO Framework Convention on Tobacco Control (WHO-FCTC) that India is part of.
The global hub that published the report runs out of NICPR, Noida, where India's apex lab is being set up. It is already testing gutkha, khaini and zarda, said Mehrotra.
Khaini and zarda are two of the most popular forms of smokeless tobacco (SLT) in India.
The other two labs are being set up at the Central Drug Testing Laboratory (CDTL), Mumbai, and the Regional Drug Testing Laboratory (RDTL), Guwahati.
As work goes on, India will share its findings with neighbouring countries such as Pakistan, Indonesia, Thailand; countries that are part of the WHO-FCTC.
The Conference of Parties of the FCTC, are mandated to have guidelines to test and measure contents and emission of tobacco products, and then adopt and implement legislation for such testing.
According to a report released by the WHO FCTC global smokeless tobacco hub on Tuesday, at the NICPR, the average implementation of this mandate, among the 179 Parties, was 50 percent.
Apart from the upcoming labs here, there is one in Singapore that tests cigarettes, in the Netherlands, in Atlanta, US — the US is not part of the FCTC — in Germany, Burkina Faso and in Japan.
So far, though, these labs, or WHO collaborating centres, remain mainly focus on technical training, testing compounds and emissions of smoking products, especially cigarettes. Testing, said the report, remains ad hoc, and not all SLT products being used in all the countries have been analysed.
The most toxic and carcinogenic compounds identified in tobacco are the tobacco specific nitrosamines (TSNA), especially nicotine-derived nitrosamine ketone (NNK), N Nitrosonornicotine (NNN) and polycyclic aromatic hydrocarbon, benzo[a]pyrene (B[a]P). All three are present in varying quantities in gutkha, khaini, zarda, etc.
Nicotine can be anywhere between 19.6 to 21.3 milligrams in a gram of khaini, 13.8 to 65 milligrams in a gram of zarda, and 1.23 to 11.4 milligrams in a gram of gutkha.
The report points out there is a dearth of information about brand wide quantification of Group I carcinogens such as NNN and NNK. Without this data and and research, there are major gaps in understanding of the toxic effects of the ingredients of SLT products.