The HPC Paper Mill Revival Action Committee, a recently constituted body of different workers' unions of Cachar Paper Mill and Nagaon Paper Mill, on Wednesday blocked road at Dhaleshwar in South Assam's Barak Valley pressing for payments of pending salaries of the mill workers and revival of both their industrial units.
The committee members along with members of different political parties including the AGP, Congress and AIUDF assimilated at Dhaleshwar around 9 in the morning and blocked the National Highway-6 and National Highway-37.
They raised slogans in unison demanding release of the pending salaries and revival of the mills at the earliest. School students in huge numbers participated in the agitation programme, which intensified the agitation even further.
Speaking to Northeast Now, Manabendra Chakraborty, chief convener of the committee and president of the Cachar Paper Project Workers' Union said, "Although lakhs of people, including the mills' workers and their families, had to face severe hardships for non-payment of salaries over the past 21 months, the government seems completely oblivious to the matter."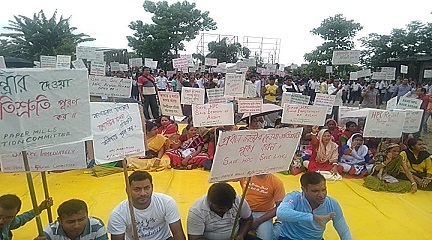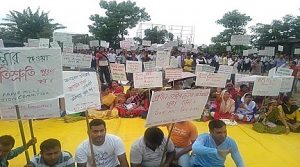 Taking a pot shot at the state government, he said, "Chief minister Sarbananda Sonowal had over a number of times given assurances that the pending salaries would be paid and the mills would be revived soon but nothing accept for false promises has been served on our platter. Sonowal has betrayed the common people by giving them false hopes and the masses will not forgive him for this in the days and months to come."
Ananda Bordoloi, general secretary of the Kagaj Nigam Karmi Union said, "It was really unfortunate that both the centre and state government had been negligent towards the defunct mills and not bothered about the problems being faced by the workers and their families. Chief Minister Sarbananda Sonowal should initiate necessary steps so that all the dues are cleared and a revival package is approved by the centre at the earliest."
Ataur Rahman Mazarbhuiya, former MLA from Katigorah constituency said, "The government should take prompt initiative to resolve the issues and save the mills' workers and their families."
District administration of Hailakandi, later in the day at around 12 noon picked up close to a 1,000 picketers and detained them at Panchgram Town High School and released all of them at around 2 pm, informed district officials, paving way for vehicular traffic to resume their journeys for their respective destinations.