Around 15 Central ministries, along with hosts of industry chambers and business houses, will participate in the three-day-long 'Vibrant North East 2018′ in Guwahati.
The event will be held from from May 3-5 and is being organized by New Delhi-based NGO, Centre for Agriculture and Rural Development (CARD).
This will be the fourth edition of the Vibrant North East expo in Guwahati.
It provides a platform to showcase NE's potential to the rest of the country and implement Central schemes for their better implementation in the eight states of the Northeast.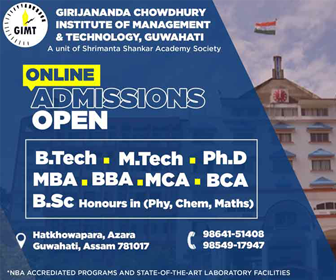 The expo will focus on sectors like agriculture, MSME, food processing projects, horticulture, tea, spices, medicinal plants, coir, bamboo, rural craft products, eco-tourism and agro and nature tourism, commerce and rural development, skills, jobs and entrepreneurship, health, hygiene, sanitation, power, role of cooperatives in agriculture, petroleum and heavy industries.
The Agriculture, Food Processing, Consumer Affairs and Civil Supply, Drinking Water and Sanitation are among the ministries which will participate in the event.
PL Thanga, Member Secretary of the State Planning Board, Mizoram, will be the chief guest during the inaugural ceremony at the Veterinary College ground, Khanapara on May 3.
Member of North Eastern Council CK Das, Managing Director of National Cooperative Development Corporation Sundeep Kumar Nayak, Joint Secretary of DIPP Vandana Kumar and Chairman of CARD Dr Anis Ansari will be present.
Governor Prof Jagdish Mukhi will be the chief guest during the concluding function on May 5.
The three-day event will comprise an exhibition in which 50 stalls from various ministries will participate.
Around 15 progressive farmers from the northeastern region will also be presented awards during the event by the Indian Council of Food and Agriculture (ICFA).
ICFA, along with All India Farmers Alliance, is organising the North East Progressive Farmers' Convention and AIFA Progressive Farmer Awards 2018 during the expo. The forum aims to establish a national platform for progressive farmers to share their success stories and connect with the industry and key stakeholders for collaboration and growth opportunities.