The Ministry of Women and Child Development, Government of India and Social Welfare Department, Assam in collaboration with UNICEF has organized a one-day north-eastern level workshop on POSHAN Abhiyan held at Srimanta Sankardev International Auditorium of Srimanta Sankardev Kalakshetra.
Assam Social Welfare Minister Pramila Rani Brahma delivered her inaugural speech to explain the aim and objectives of Poshan Abhiyan to prevent and reduce stunting children, under-nutrition children and to reduce the diseases like anemia, diarrhea etc.
POSHAN Abhiyaan was launched on  March 8 early this year by the Prime Minister in Jhunjhunu, Rajasthan.
The Abhiyaan targets to reduce stunting by two per cent, under-nutrition by two per cent, anaemia (among young children, women and adolescent girls) by three per cent and reduce low birth weight by two per cent per annum respectively.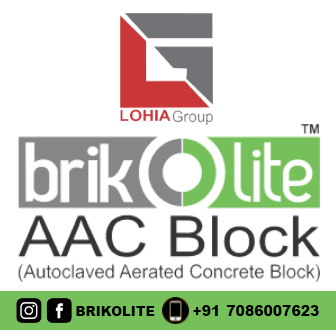 The target of the mission is to bring down stunting among children in the age group 0-6 years from 38.4 per cent to 25 per cent by 2022.
Under the Scheme for Adolescent Girls, 84,746 numbers of 11 years to 14 years school drop-out adolescent girls have been assessed in 23 districts of the State.
Steps have been taken to provide nutrition to all these adolescent girls.
Further, 215 numbers of adolescent girls in the age group of 15 to 18 years have been taken up for training under skill development programme on pilot basis which will be scaled up, across the State.
The Pradhan Mantri Matru Vandana Yojana (PMMVY) has been launched and started functioning in all the districts of the State,
It is implemented by the Ministry of Women and Child Development.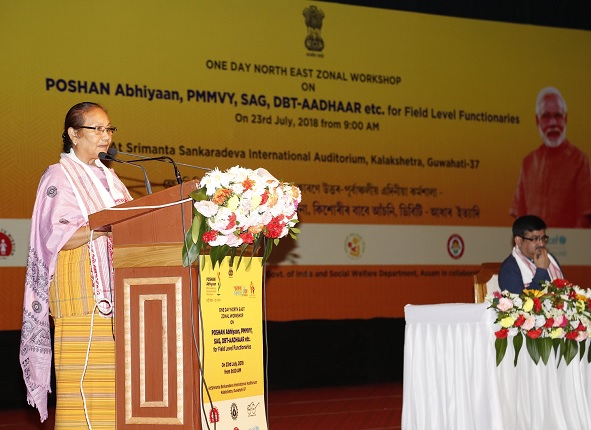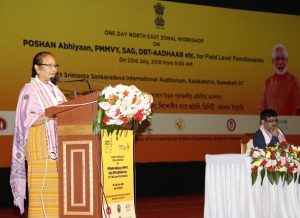 It is a conditional cash transfer scheme for pregnant women and lactating mothers for first live birth only.
In-case of DBT- Aadhaar, the progress is not visible due to the fact that Aadhaar is yet to be implemented fully in the State, but post NRC, Aadhaar will be implemented smoothly across all jurisdictions and the benefits will be shared to all.
Regarding construction of AWCs, a total of 38,809 Anganwadi Centres have been constructed by the Department, under MGNREGA, construction of another 1500 centres are in progress.
Further, the 'VEDANTA' corporate group has initiated and proposed to construct 300 Anganwadi centre buildings in 12 high-burden districts of Assam.