Next two weeks are going to be memorable for the theatre buffs of Guwahati, courtesy the 8th Theatre Olympics which the city will co-host alongside sixteen other cities.
Known as the world's largest theatre festival, Theatre Olympics will be held in India for the first time. The event will be organized by the National School of Drama (NSD).
Guwahati will get the chance to host fifteen performances from March 11 to March 25, out of which three plays will be from foreign land. Among the three, two plays will be from Nepal and one will be from Brasil.
Addressing a press conference on Tuesday, veteran theatre and film actor Pranjal Saikia said, "This would be a great opportunity for the people of Guwahati to witness different national and international theatre forms. The festival will be held here at Srimanta Sankardev Kalakshetra where Chief Minister Sarbananda Sonowal will be the Chief Guest. The ceremony will also be attended by Assam Cultural Affairs Minister Naba Kumar Doley, Padma Bhushan Jahnu Barua and Padmashree Jatin Goswami."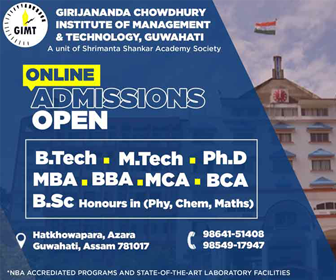 Apart from Guwahati, two other northeastern cities namely Imphal and Agartala will be the co-hosts. Other cities where the festival will be held are New Delhi, Chennai, Bengaluru, Thiruvananthapuram, Bhubaneswar, Patna, Kolkata, Varanasi, Bhopal, Jaipur, Chandigarh, Jammu, Ahmedabad and Mumbai.
The plays to be staged in Guwahati are 'Rajrakta' directed by Bibhash Chakraborty (Bengali), 'Santaap' directed by Sandip Bhattacharya (Bengali, Hindi), 'Panchratram' directed by Vyomkesh Shukla (Hindi, Sanskrit), 'Jiudo Aakash' directed by Roshan K Mehta (Nepali), 'Antigone' directed by Rajan Khatiwada (Nepali), 'Ebong Andhokar' directed by Prithunandan Ghose (Bengali), 'Dakha Brahman Vadhe' directed by Fakiraiya Amoghi Math (Doddata Folk), 'Baijayantika' directed by Debasis Majumdar (Bengali), 'Swapnavasavadatta' directed by Anagha Deshpande (Marathi), 'Safarnama' directed by Mahmud Alam (Hindi), 'Laal Paen' directed by Subhash Chandra Pradhan (Odia), 'Aarshi' directed by Prokash Bhattacharya (Bengali), 'To Kill or Not to Kill' directed by Ovlyakuli Khodjakuli (Multilingual), 'Jail House' directed by Vinicius Piedade (Portuguese) and 'Aurat ki Jung' directed by Urmil K Thapaliyal (Hindi).
Earlier, the Theatre Olympics were held in Greece (1993), Japan (1999), Russia (2001), Turkey (2006), South Korea (2010), China (2014) and Poland (2016).