Gauhati University (GU) will increase seats for civil services coaching classes of its second professional batch that will commence from the end of this month.
GU pre-examination training centre (PETC) deputy director Sanjoy Kumar Dutta said that the centre has decided to increase the seat capacity for the coaching programmes for civil services to 50 this time.
"Last year, the total number of seats was around 18. Of these, around 25 seats will be reserved for the regular PG students of GU and its research scholars. The coaching classes are scheduled to commence from April 30," Dutta said.
A notification issued on April 18 said admission will be on a first-come-first-serve basis.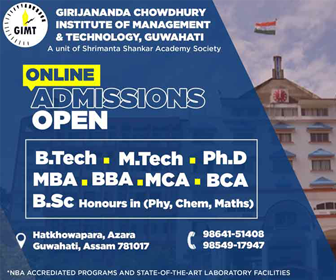 The fees for the coaching programme will be Rs 5,000 for GU students and Rs 7,000 for outsiders. Interested candidates may apply on or before April 25.
"The PETC was renamed from IAS Coaching Centre, GU in 1986. Despite its encouraging outcome between the 80s and 90s, the centre was not functioning for quite some time. It was only last year that we started inviting professional coaches for the civil services examinations."
Karishma Das, one of the candidates of the last batch, who is also a final year student of the law department at the university, cleared the UPSC mains and is awaiting the result of the personality test.
An IIT start-up called Energy Solution was invited by the centre under GU to coach the 2017 batch.