The President of India has appointed Justice Hrishikesh Roy as Acting Chief Justice of the High Court of Kerala with effect from May 30, consequent to the retirement of Chief Justice Antony Dominic.
Justice Roy was transferred from Gauhati High Court to Kerala High Court vide a notification dated May 28, and on account of him being the senior most judge of the Kerala High Court, Justice Roy has been appointed as the Acting Chief Justice of the High Court of Kerala.
Justice Roy's name was recommended for transfer from Gauhati High Court to Kerala High Court in January this year and after consultation with the Chief Justice of India, Dipak Misra, the transfer was effected by President Ram Nath Kovind yesterday.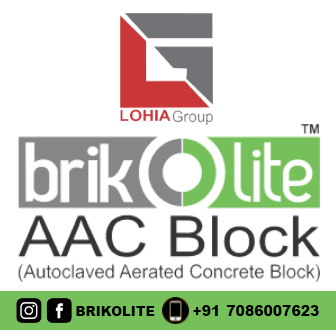 Justice Roy's parent High Court is Gauhati and he was the senior most Puisne Judge of the Gauhati High Court and was also the Judge-in-Charge of the Administrative Department (JAD).
Roy graduated in law from the Campus Law Centre, University of Delhi in 1982, and was designated as a Senior Advocate by the Gauhati High Court in December, 2004.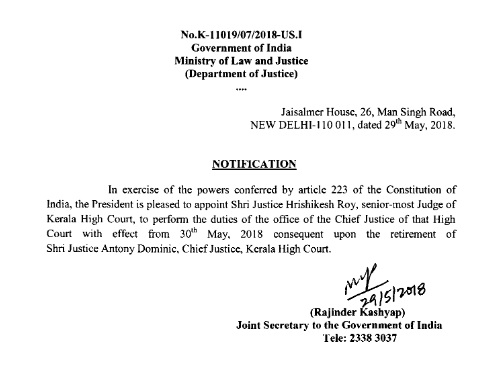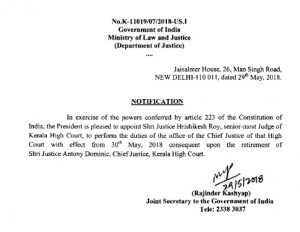 For several years, he served as the senior government advocate for Arunachal Pradesh and was the standing counsel for the Assam State Electricity Board and the Karbi Anglong Autonomous Council.
He was then sworn in as an Additional Judge in October, 2006, and was made permanent in July, 2008.
The Arunachal Pradesh Legal Service Authority, under his leadership, produced 'Apne Ajnabi', a short film on racial discrimination and the ways in which legal help can be provided to such victims.
As the Executive Head of the Assam State Legal Services Authority, Justice Roy implemented the Reach Out and Respond programme to facilitate access to justice for the marginalized people of Assam.
The Assam chapter of the Indian Law Institute (ILI) was also under his charge.
Besides, for the past eight years, a newsletter called Atman has been published under his editorship in the Gauhati High Court.