Enchanting Bhairabkunda, a nature lovers' paradise is ready to welcome tourists for this year's season.
The man-made forest is spread over an area of 550 hectares near Dhansiri river giving a picture perfect getaway destination to unwind in its serenity.
The plantation process started in 2007 in a plot of barren sandy land near Bhairabkunda. The 22.24 square kilometre area of Bhairabkunda Reserve Forest was left without a single tree by early 1980s due to rampant illegal felling of trees in region mostly infested by insurgents during that time.
The initiative was taken by a joint forest management committee formed by local enthusiasts from adjoining villages namely, No.1 Mazorgaon, No. 2 Mazorgaon, Bhairabpur, Goraimari, Sonaigaon and Sapangaon.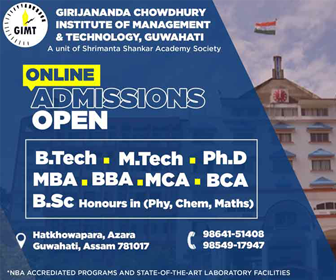 The JFMC Bhairabkunda has already earned world-wide reputation with the plantation of more than 15 lakh valuable saplings which have grown now, virtually transforming the landscape of the area into an ever-green paradise sheltering various species of flora and fauna.
The JFMC Bhairabkunda has won 'Life time Achievement Award' from Kaziranga Wildlife Society in 2016 and Special Appreciation Award from Balipara Foundation in 2017.
The plantation drive began in April, 2007 under the supervision of Naba Kumar Bordoloi, Range Officer, Bhairabkunda and within 10 years, a spectacular man-made forest known as Gedsimani JFMC came into existence with well-grown khoir, gamari, simul, sisum trees etc, near the Dhansiri river at Bhairabkunda, the meeting point of Assam, Arunachal Pradesh and Bhutan.
The regenerated forest land now has a rich vegetation and has given shelter to wild elephants, leopards, deer, pythons, wild boars, monkeys, bear etc.
A small river with several canals, a few of them man-made run through the forest providing replenishment for the green cover.
Members of JFMC have already developed the area as an ideal eco-tourism hub. With rivers crisscrossing the verdant Assam-Arunachal-Bhutan border and Bhairabkunda Reserve Forest providing some undulating trekking trails, the spot is fast becoming a tourist hotspot.
The JFMC has made arrangements for camping for the season 2017-18 for the first time with all basic facilities along with sight-seeing and trekking at a very pocket-friendly price.