A workshop aimed to better equip the students for the Diploma in Elementary Education (D El Ed) course was held at Kopati Jatiya Vidyalaya in Darrang on Monday.
This course for teachers at the elementary level was held under the State Council of Education Research and Training (SCERT).
Retired Principal of Vallabh Bhai Patel HS School, Pradip Kr. Malakar inaugurated the workshop.
In his inaugural speech he lauded the SCERT for opening up a study centre in the region bordering Udalguri district which gives ample oppurtunity to the teachers of both the districts.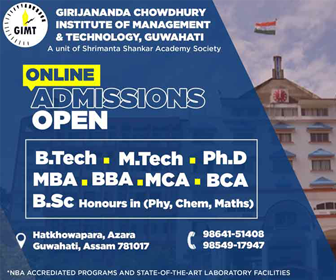 Speaking at the programme, Associate Professor of English, Mazbat College, RC Shah said, "The programme is structured on the functions a teacher is expected to perform at the elementary schools, be it engaging in the classroom processes, mobilizing the community, participation in the corporate life of the school or implementing the whole school development plan. "
The workshop discussed syllabus of diploma in elementary education (DElEd) course, programme design, role of coordinator, study centres, training and counselling.
250 teachers of the region attended the programme designed for all private, government and government-aided recognized in-service untrained teachers of elementary schools.
The programme was also attended by Mangaldai B.Ed college teacher, Puspanjali Shivam.
The central government has set a deadline for training of untrained teachers by 2019 to continue their job.