The All Assam Adivasi Students' Association of Assam (AASAA) has called for the removal of 'area restriction' which will pave the way for the inclusion of 60-lakh Adivasi population of the state in the Scheduled Tribes (ST) list.
While the Adivasis in states like Bihar, Chattisgarh, Jharkhand, Madhya Pradesh, Orissa, Tripura and West Bengal are recognised as Scheduled Tribes, the Adivasis in Assam comes under the OBC (Other Backward Classes) category.
Demanding the removal of area restriction provision, the All Assam Adivasi Students' Association of Assam on Friday staged a three-hour demonstration in front of the DC office at Tinsukia.
The students' body later sent a memorandum containing their charter of demands to Prime Minister Narendra Modi through Tinsukia Deputy Commissioner Oinam Saran Kumar Singh.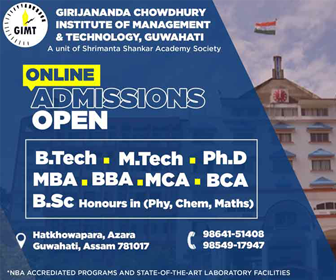 "The 60 lakh Adivasi population in Assam should have got ST status by default like other states. Adivasis here are categorized as tea tribes and ex-tea tribes which has deprived them of their tribal status. The truth is that less than half of the Adivasi population are working in tea gardens. Most of them are engaged in agricultural activities and other occupations. Our ancestors were tribals and our brothers in other states are tribals. In spite of fulfilling all criteria of tribal characteristics, inspire of contributing immensely to the state's economy and in spite of providing political stability in the state, our people have been denied their rightful ST status. We strongly demand the inclusion of the Adivasi people in the ST category," said Ramanus Lakra, secretary of the AASAA's Tinsukia district unit.
According to Lakra, there are 35 sub-groups of the Adivasi community (Chotanagpur-origin) in Assam. The sub-groups are Santhal, Munda, Oraon, Kharia, Gond, Lodha, Saora, Parja, Bhil, Danwar, Khond, Kherwar, Birhor, Bonda, Chik-Baraik, Kawar, Baiga, Halba, Adur, Birjia, Chero, Mahali, Mirdha, Kol, Gorait, Nagasia, Korwa, Koya, Bhumij, Sobor, Ho, Kissan, Mal Paharia, Lohar and Kamar. Prime Minister Narendra Modi during his campaign rallies in the 2016 Assam assembly election had promised ST status to six communities in the state including the Adivasis. The other communities are Tai Ahom, Moran, Motok, Chutia and Koch Rajbongshi.
"Adivasis are already recognised as Scheduled Tribes by the Centre. It is only because of area restriction, the scheduling of Adivasis in Assam has become an obstacle. We strongly believe that the question of modality of any sort does not arise in our inclusion in the list as we have fulfilled all parameters. By denying ST status to us, our tribal identity and constitutional rights have been denied," said Raja Kujur, AASAA's Tinsukia district president.