College life plays a vital role in imbibing moral and social ethics in a student and the student's overall growth and development. This was observed by Dithakananda Hazarika, Sub-Divisional Officer (Civil), Bhergaon, during the open session of the Annual Week of Tangla College on Saturday.
Speaking on the occasion as the Chief Guest, Hazarika exhorted the students' community to cultivate a dedicated mindset, determined approach and never-ending zeal to achieve success.
Hazarika further observed that activities like rash-driving, unruly attitude, abuse of psychotropic substances among others depress the society in a large way. "The conscious circles have great hopes and aspirations from the upcoming generation," he said.
He further stated that the spirit and enthusiasm of patriotism among the countrymen seem to be at its peak during Indo-Pak cricket tournaments or the Republic Day or the Independence Day but "such spirit should be displayed throughout the year".
Hazarika exhorted the students to follow the ideals of the hardworking people of Japan.
"The Japanese culture instills a more comprehensive value system comprising pride, respect and honour which should be imbibed by the countrymen," said Hazarika.
He wrapped up his speech with the famous Bollywood song Papa Kehta Hai Bada Naam Karega.
The open session was graced as appointed speaker by former principal of LOKD College, Dhekiajuli, Dr Prafulla Ch Rajbangshi.
In his speech, Rajbangshi also exhorted the students to imbibe moral ethics and cited the lessons of life of Kautilya and Chanakya.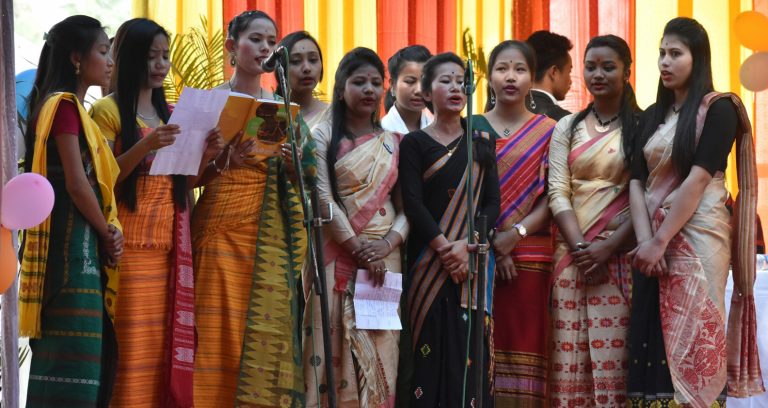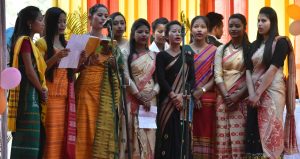 The session was also addressed by former Head of Department (HoD) of Political Science, Binoy Kr Medhi and retired Vice Principal GB Das. The open session, presided over by Principal Dr Prasen Daimari, was inaugurated by Vice Principal Dr Anjali Chakravorty.
Earlier, the day-long programme was initiated with traditional fashion show where the students draped in ethnic outfits showcased their talents. The students also performed to the tune of various traditional and modern songs.
A prize distribution ceremony was also held where students were provided medals and certificates for their excellent performance. A specially-abled child, Deepamoni Dey enthralled the audience by her performance.