The 2nd Guwahati Film Festival, organized by Chalachitram, will start at Jyoti Chitraban campus in Guwahati from Friday. The three-day festival will have film screenings, discussions and award ceremonies.
Assam Power Minister Pallab Lochan Das, All India Prachar Pramukh of the Rashtriya Swayamsevak Sangh (RSS), Dr Manmohan Vaidya and noted filmmaker Santwana Bordoloi will attend the inaugural event as distinguished guests. The festival will open with the screening of the movie Lokmanya-Ek Yugpurush directed by Om Rout.
One major attraction of the second day of the festival will be a discussion on the iconic Assamese movie Dr Bezbarua as the movie celebrates its 50 years.
Some of the films to be screened at the festival are – Rearing Eri with Traditional Values, Happy Birthday Joy, Ahmedabad's Bene Israel, Tropical Malady, Liakat – It rains in the end, Megh – The Cloud, Takkuti – a Relentless Journey, Bathou Open the Door, Nasty Woman, The Tea, No- The Home, Little Hearts etc.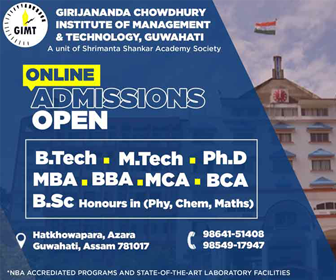 The festival will close with the screening of the film Gaur Hari Dastaan starring Vinay Pathak and directed by Ananth Mahadevan.
Assam Sports and Cultural Affairs Minister Naba Kumar Doley and Batadraba MLA and film actor Angoorlata Deka will attend the closing ceremony as distinguished guests.