Assam Governor Prof Jagdish Mukhi conveyed his warm greetings and best wishes to all the people on the auspicious occasion of Christmas.
In his message Prof Mukhi said, "I convey my greetings and best wishes to the Christians in particular and all the people belonging to all religion on the occasion of Christmas."
Mukhi also said, "Christmas is a celebration of birthday of Jesus Christ and on this occasion let us all rededicate ourselves to the teachings of Lord Jesus for strengthening universal brotherhood, love and compassion for fellow human being."
The Governor has appealed to all to take Christmas as a cause to spread the message of peace, co-existence, amity and camaraderie amongst mankind through joy and merriment.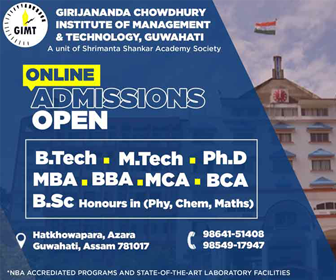 Arunachal Pradesh Governor Dr BD Mishra and Chief Minister Pema Khandu in separate messages on Sunday conveyed their greetings and good wishes to the people of the State on the occasion of Christmas and 'Good Governance Day'.
Wishing the people a merry Christmas, the Governor expressed hope that the festival would spread the message of tolerance, coexistence, and amity in every corner of the country.
He expressed confidence that the 'Good Governance Day' would motivate the public representatives and government officials to rise to the expectation of the people through probity, rectitude, and efficient governance.
The Chief Minister also conveyed his best wishes to the people on the occasion of Christmas.
In his message, Khandu expressed faith that this Christmas celebration would open up the doors of wisdom 'and the enlightenment that peace and development go hand in hand.'
"As we celebrate the birthday of our lord Jesus Christ, it is my fervent wish that every cup may overflow with blessings rich and eternal, and that every path may lead to peace, and that we all move ahead, hand-in-hand, towards development," he said.
The Chief Minister also wished everyone on the occasion of 'Good Governance Day', and reminded people that the day is a time to reiterate and reaffirm the pledge to give the people good, friendly, and accessible governance.