The bust of Kamala Saikia, a journalist, teacher, actor and freedom fighter of Dikhowmukh in Sivasagar, who was killed by suspected United Liberation Front of Asom (ULFA) militants way back on August 9, 1991, was unveiled on Sunday at his native land in Dikhowmukh Bharalua Tini Ali in presence of a large gathering on the outskirts of Gaurisagar in Sivasagar district.
With a view to keep the memories of late Kamala Saikia alive, the Kamala Saikia Smritiraksha Samiti, Dikhowmukh took an initiative to install a bust of Saikia at his native land in association with the All Assam Students' Union (AASU), Dikhowmukh Regional Unit, Dikhowmukh Press Club and the people of Dikhowmukh and it was completed with unveiling of the bust on Sunday.
At 11:30 am on Sunday, veteran journalist and former Asom Sahitya Sabha (ASS) President Kanak Sen Deka unveiled the bust of late Kamala Saikia, which has been sculpted by noted sculptor Biren Singha.
In this connection, an open meeting was also held under the chairmanship of Bani Kanta Saikia, President, Kamala Saikia Smritiraksha Samiti. Dr Saumarjyoti Mahanta, Principal, Sibsagar Commerce College inaugurated the meeting.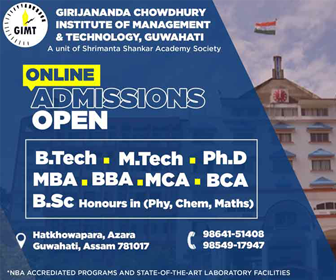 In his speech, Dr Mahanta said that late Saikia tried to awake the people of Assam for a change in the society.
He also said, "The installation of late Saikia's bust in a public place will remind the people of his philosophy, work and contributions to the society."
Addressing the gathering, veteran journalist Kanak Sen Deka said with the installation a bust of the first journalist martyr of Assam, Kamala Saikia, the people of greater Dikhowmukh have showed for an ideal for the first time in Assam."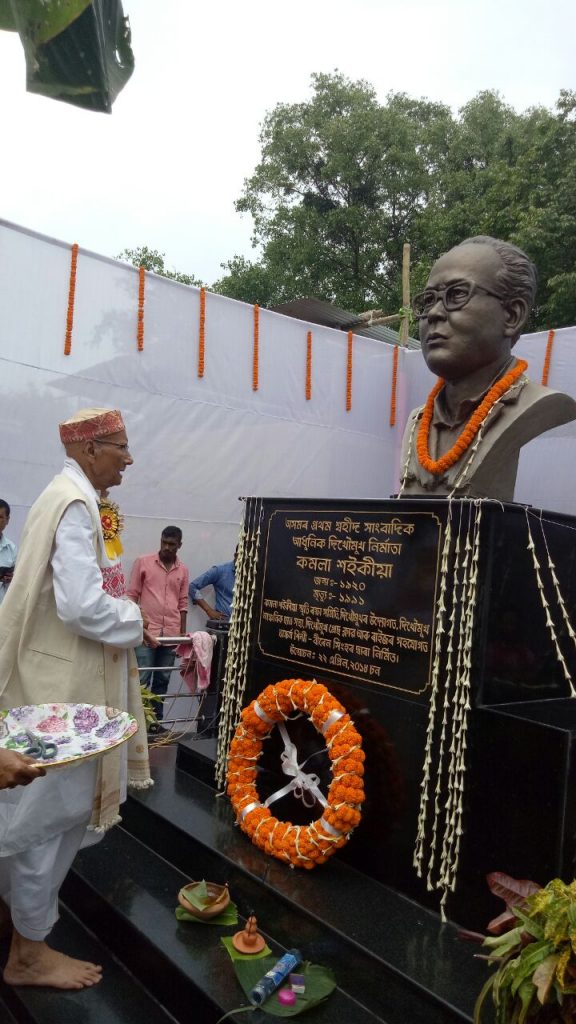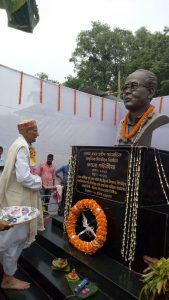 He also said, "For this kind of act, I express my sincere thanks to the people of Dikhowmukh area."
Sen Deka citing the courage of late Kamala Saikia, said, "We published his write-ups significantly which other media houses did not dare to publish. His strong criticism was against the rise of ULFA activities in Assam. He also demanded arrest of then Chief Minister Prafulla Kumar Mahanta and Home Minister Bhrigu Kumar Phukan for their role as silent spectators in ULFA's activities."
In the meeting, Sanjib Phukan, Deputy Editor of Assamese daily 'Asomiya Pratidin', also criticized the rise in atrocities on journalists. Phukan said, "It is a matter of serious concern that despite public confession about Kamala Saikia's murder by the ULFA, the government is yet to nab the culprit."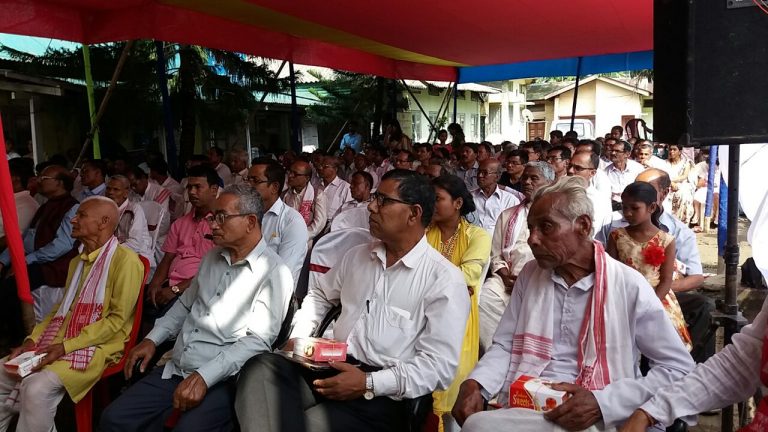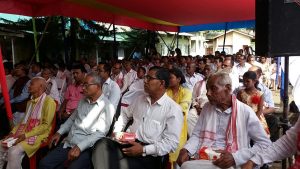 The other dignitaries who attended the meeting were Pradip Hazarika, MLA, Amguri, Sarat Hazarika, Education Secretary, AASU, Bijoy Krishna Dutta, Vice President, Sadou Asom Karmachari Parishad, Podum Kr Saikia, President, APCU, Sivasagar District Committee,  Dhrubajyoti Bhattacharyya, Sivasagar District Press Correspondence Association, Inamul Hazarika, Secretary, Sivasagar  Press Club,  Dibya Jyoti Das, President, AJYCP,  Sivasagar District Committee , Samiron Bordoloi, Secretary, ASS, Jorhat District Committee and Dhananjoy Saikia, the elder son of Kamala Saikia.
The meeting was anchored by Prasanta Dutta, Secretary, Dikhowmukh Press Club while Bidyut Bikash Baruah, Secretary, Kamala Saikia Smritiraksha Samiti, explained the objective of the meeting.  At 6 pm, a drama titled Dhan Bor Ratani performed by Arhi drama troupe of Nagaon. The day-long programme started with Bhagawat path followed by plantation of saplings.