Brisk preparations are on to celebrate the 29th National Road Safety Week in Barpeta District from April 23 to 30.
The theme of the celebration this year is 'Sadak suraksha-Jeevan Raksha'.
The programme will kick off at the Bajali Higher Secondary School playground, Pathsala on April 23.
This was informed by the Path Suraksha Samitee (Road Safety Committee) formed in this regard with Deputy Commissioner of Barpeta, Thaneswar Malakar as chairman, Superintendent of Police of Barpeta, Violet Barua and  Gautam Baruah, member secretary of the committee.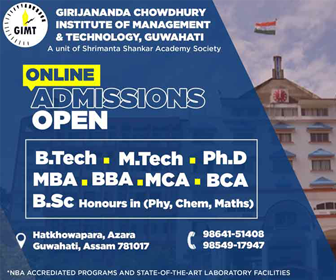 The entire programme will be flagged off at 11 am by the Deputy Commissioner and chairman of the committee.
This celebration will be held under the direction of Ministry of Surface Transport, Government of India and Transport Department, Government of Assam.
The programme will begin with a cleanliness drive to be conducted by VRDS, an NGO followed by lighting of lamp by Pabindra Deka, MLA of Patahcharkuchi.
Deputy Commissioner Thaneswar Malakar will formally declare open the entire week-long celebration.
Plantation of saplings will be initiated by Vijaya Bhaskar Reddy, SDO (Civil) Bajali subdivision and Ananda Khataniar, brand ambassador of Environment and Forest Department, Government of Assam.
The committee will also felicitate some persons who extended support in the programme like Krishna Roy, producer of Abahan Theatre, Zubeen Garg and popular actress Prastuti Parashar.
Himangshu Roy Chairman of the Pathsala Town Committee and Dr Ranjit Deka, Rector, Anundoram Borooah Academy, Pathsala will release the leaflets and messages regarding road safety. Street play will also be performed on the occasion.
Violet Barua, Superintendent of Police Barpeta, and Prastuti Parashar will kick off the awareness procession that will be taken out in the town in order to generate mass awareness regarding road safety.
A poster exhibition on road safety will also be organized under the aegis of Hub Studio, Barpeta.
A short play -'Pathar Lagari' will be staged at the Pathsala Rongali Bihu podium under the aegis of District Transport Office, Barpeta.
On April 24, awareness meetings will be organized at various places of the district including Patacharkuchi and Baghmara in order to generate mass awareness among the people.
Documents of the vehicles will also be checked by the authorities concerned during the period.