The 12th Annual Brajanath Sharma Memorial Inter-State Drama Festival by well-known amateur theatre group Samahar Natya Gosthee will be held from September 10 to 16 at District Library Auditorium in Guwahati. The festival is being organised in association with Indian Oil Corporation.
The main focus of the festival will be on women playwrights and directors. On this occasion, Drama Festival Committee president Lalit Sarma said, "It is indeed a very happy moment for us to formally announce the programme of the festival. In the last 11 years, this festival has become a very important and landmark cultural event of the state. Now, it is a big responsibility on our shoulder to make it a grand success like the previous years."
Samahar has been organising this annual theatre extravaganza in the hallowed memory of Brajanath Sharma since 2007. He was one of the pioneers of modern Assamese theatre and had first brought women on stage to introduce co-acting in the state in 1933.
Sharma, the unique firebrand freedom fighter, had destroyed and set ablaze the British aerodrome at Bornagar, Sarbhog police station, post office etc in Barpeta district. The detailed programme for the The festival will be inaugurated by veteran Sattriya Dance expert Padma Shri Jatin Goswami. The souvenir of the festival "Kohinoor" will be released by Indian Oil Corporation Chief General Manager Uttiya Bhattacharyya.
The ceremony will be followed by the play of the first night. Jirsong Theatre from Guwahati will present "BAAGH". Originally written by Sisir Kumar Das, the Assamese translation was done by Mamoni Raisom Goswami. Directed by Rabijita Gogoi, the play mainly talks about women's condition when violence spreads out in killing spree. Represented by two isolated women – a Hindu and a Muslim – fleeing for their lives amidst raging violence, termed as the man-eater tiger, the play analyses the reasons for such disturbances in the society.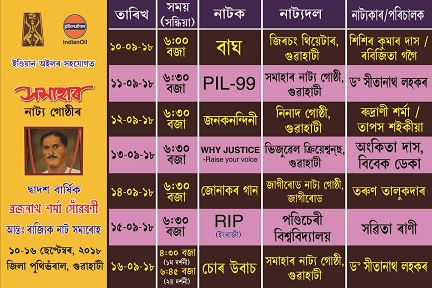 On September 11 Samahar Natya Gosthee will stage their play "PIL-99", written and directed by renowned playwright Dr Sitanath Lahkar. The drama highlights rampant corruption, even in the name of drinking water and poignantly presents how the verdict of the people's legal battle is stalled by the powers that be.
Gauhati University's Neinad Gosthee's "JANAKNANDINI", Guwahati-based young group Visual Creations' "WHY JUSTICE – RAISE YOUR VOICE", Jagiroad Natya Gosthi's "JONAAKAR GAAN", Pondicherry University's Savita Rani's solo interactive English play "RIP" and Samahar Natya Gosthee's latest play "CHORA UBACHA" will be the other attractions of the week-long drama festival.