Bollywood actress Dia Mirza walked the ramp at the ongoing Lakme Fashion Week in a Mekhela Chador by fashion designer Sanjukta Dutta. The event was organized at Jio Garden in Mumbai.
This is not the first time a Bollywood actress has worn her designs. In the past, actresses Bipasha Basu, Preity Zinta, Priyanka Chopra has also worn her beautiful designs.
The actress who shared a picture of hers wearing the mekhela chador on Twitter garnered a lot of appreciation from Twitteratis.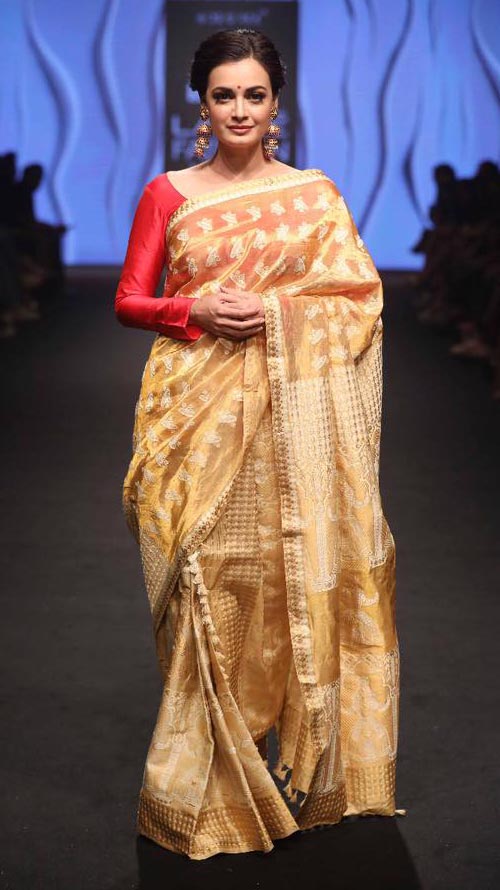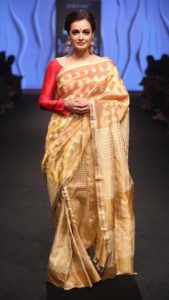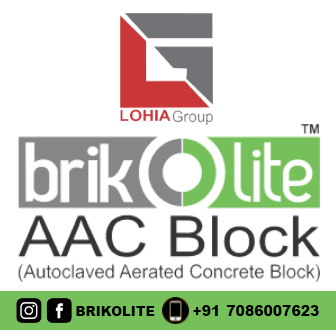 Fashion Designer Sanjukta Dutta is known for her fashionable and exquisite range of customized and hand-crafted Assamese mekhla chador, with different varieties of coloured silk threads.
She started her brand in 2012 and it has been steadily gaining popularity. She also designed a special Muga Angavastram for the Duke and Duchess of Cambridge, Will and Kate when they visited Assam, in the past. She hopes to highlight the textiles and handlooms of Assam and give recognition to the immense wealth the state has to offer in terms of textiles.