International sportswear giant Adidas India has signed an endorsement deal with Assam's sprint sensation Hima Das.
The young athletic sensation will serve as the brand ambassador of the Indian entity of the German global sportswear giant.
At the announcement of the association, Adidas India Managing Director, Dave Thomas, presented Hima with an Adizero Prime SP, one of adidas' most premium and technical sprinting shoes.
The personalized shoe features the sprinter's name "HIMA DAS" on the right shoe and "CREATE HISTORY" written on the left shoe.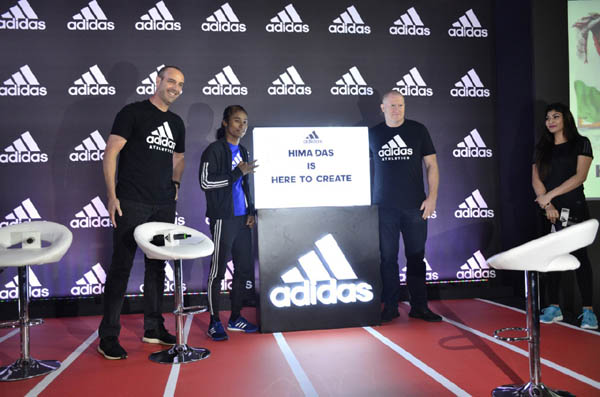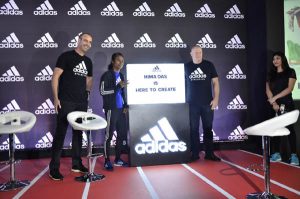 "At Adidas we believe that 'through sport, we have the power to change lives' and Hima is a great example of this. Many of our associations and partnerships are focused on empowering youth in India and making a positive change. We at adidas also believe that as the leading sports brand in India it is important to encourage girls to take up sport and keep playing sport as they get older. Over the last couple of years, Hima and many other Indian women have emerged as torchbearers with their outstanding performances. adidas is very keen to support India's youth and to build a stronger sporting spirit and ambition in them", said Thomas.
In the last decade, Adidas has been working with many young athletes and investing in grassroot initiatives to empower young athletes to take to sports.
Some of the grassroot investments include the Adidas Runners community, the Tango league and Adidas Base for football, and Adidas Junior Open in tennis.
Indian athletes like Rohit Sharma, Kuldeep Yadav, Rishabh Pant, DipikaPallikal, Zeel Desai, NikhatZareen, Siddhanth Banthia, ManjotKalra, along with international athletes like Lionel Messi, Paul Pogba, Naomi Osaka, Caroline Wozniacki, Wayde van Niekerkand Gladys Cheronoamong others wear the 3-Stripes with pride.