Assam Public Health Engineering and Co-operation Minister, Rihon Daimari distributed tractors and accessories to beneficiaries under the Chief Minister's Samagra Gramya Unnaya Yojana (CMSGUY) 2017-2018 at a ceremonial function held at Udalguri Agricultural Office Complex in Udalguri district of Assam on Saturday.
The meet attended by Paneri MLA, Kamali Basuamatary; BTC Speaker, Tridip Daimary, BTC Executive Members, Ansumwi Khungur Boro, Lmwshrao Daimary, Additional Principal Secretary BTC, Robinson Mushahary; Kalaigaon MLA, Maheswar Boro; Under Secretary to Government of India, Narendra Pal; BTC Secretary, Kuren Narzary, Udalguri Deputy Commissioner Dilip Kumar Das, officials of the Agriculture Department of Udalguri district and local farmers.
Additional Principal Secretary of BTC, Robinson Mushahary said that BTC administration feels very much privileged to distribute the tractors among the farmers and further added that Udalguri district is among top priority fo the implementation of such schemes.
Speaking on the occasion, BTC Executive Member, Ansumwi Khungur Boro, said that the Central Government is taking every possible  step to increase the productivity in the agricultural field and also urged the farmers to double the productivity not only in the agricultural fields, but also in cultivation and production of fish breeding, vegetable cultivation, etc.
He further added thar FPCC company has been formed in the Udalguri district to train farmers to increase their productivity in the agricultural fields and even announced that the best farmer of the district will be rewarded with a power tiller.
Under Secretary to Government of India, Narendra Pal said that Prime Minister Narendra Modi's dreams of a vision nation can only be fulfilled with co-operation and also with active utilization of the different types of schemes and projects that are being implemented across the length and breadth of country.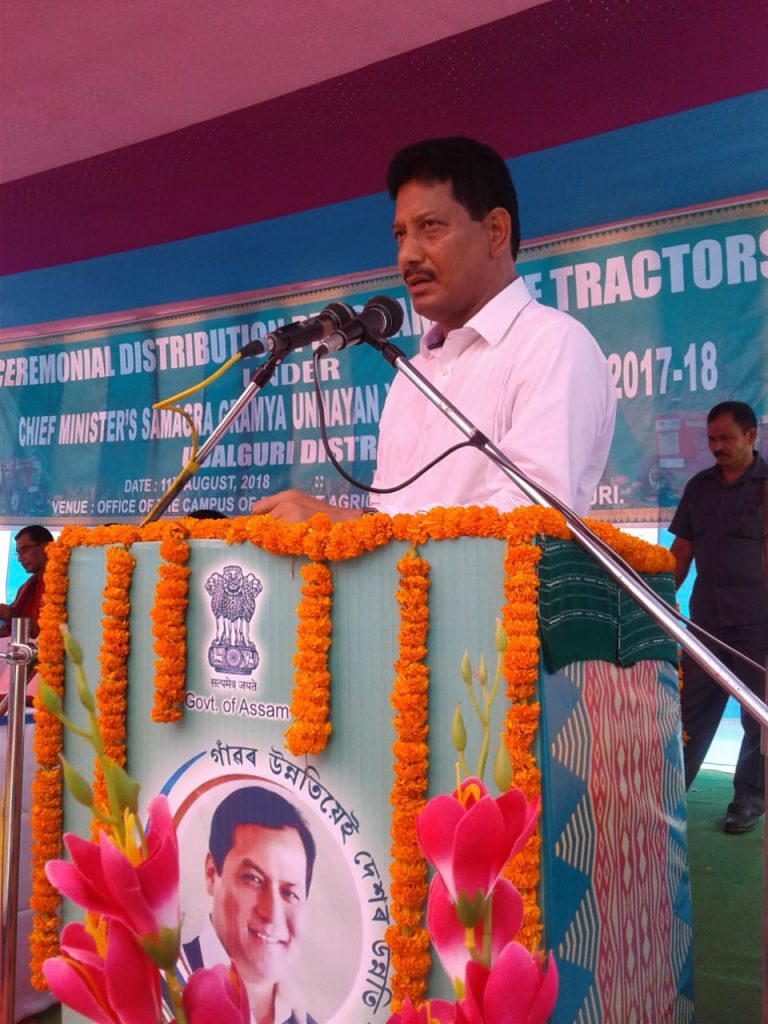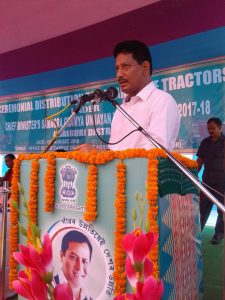 Panery MLA Kamali Basumatary said that funds worth Rs one crore 25 lakhs will be released to make a revenue village.
She further added that the BTC administration is striving a lot to develop the Udalguri district and hence co-operation is required from all the officers and people of Udalguri.
State Cabinet Minister, Rihon Daimari said that altogether seven companies were selected for the farmers to select their personal choice of tractors and said that revolution will start in agricultural productivity and there will be a surplus productivity in the agricultural fields.
He further inspired the farmers to cultivate spinach and vegetables and other crops like maizes.
A total of Rs 2,600 subsidy has been offered for LPG cylinders and free meters and CFL bulbs were also distributed.
A total of 176 tractors were distributed among the farmers in groups.