Kishore Basumatary, a retired teacher of Simbargaon High School,  who has been associated with various organizations, on Tuesday took the oath of office as the 3rd chairman of the Kokrajhar Development Authority (KDA) at the conference hall of the authority.
The oath of office was given by the Secretary of Urban Development, Town and Country Planning, BTC, Dharan Dhar Boro in presence of BTC EM of Urban Development, Sports and Youth Welfare, Doneswar Goyary and other officials.
EM Goyary in his address said the Kokrajhar town, which is the headquarter of the Bodoland Territorial Council (BTC) was a fast developing town. While the population in the town is increasing, the town is becoming busy with huge rush of people.
He said the foundation of high rise building, construction of drainage system, canal, roads, electricity and other infrastructures should be taken up properly and proper planning is the need of the hour.
Goyary also said the authority should bring awareness on the civic sense to make the town neat and clean. He hoped that the new chairman would take proper steps towards extension and expansion of existing parameter of Kokrajhar town in a collaborative way with the Kokrajhar Municipal Board (KMB).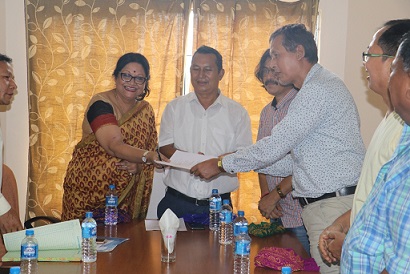 New chairman Kishor Basumatary said he would try his level best and sought support from the citizens of Kokrajhar and officers as it is not a new town with planning.
He said bringing a new change with new planning in the existing town is not an easy task and therefore, the support from all concerned would be required.
The keynote address was delivered by the Deputy Director of Town and Country Planning Biren Swargiary. During the programme speech was also delivered by Council Head of the Department (CHD), Urban Development Nibedita Hazarika and ex-EM of BTC Sabharam Basumatary. It was also attended by chairman of KMB-Bishnu Narzary and other officials.