Along with other parts of the State, the Jorhat unit of the Asom Jatiyatabadi Yuva Chatra Parishad (AJYCP) also staged sit-in demonstration in front of the Jorhat Deputy Commissioner's office in protest against the proposed Citizenship (Amendment) Bill, 2016.
The Bill would give recognition to all illegal Hindu migrants from Bangladesh, who entered the country till 2014, as Indian citizens.
Siba Kalita, Finance Secretary, AJYCP Central Committee, who participated in the demonstration in Jorhat along with AJYCP President Putul Dutta said that six-year-long Assam agitation led by the All Assam Students' Union had culminated in the signing of the Assam Accord in which the cut-off date for illegal migrants, who had entered Assam, was fixed as March 31, 1971.
Also read: AJYCP protests in Dibrugarh to scrap Citizenship Amendment Bill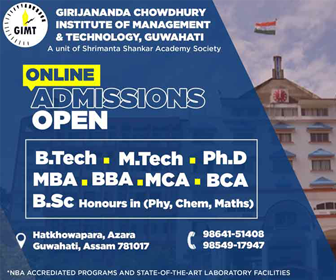 "We will not allow any deviation in this date," said Kalita.
Moreover, the Assam Accord did not specify people of any religion to be identified as illegal migrants.  "For us any person residing in India illegally and especially in Assam, irrespective of which religion he or she belongs to is a foreigner and will have to be deported," Kalita said.
Kalita further said that the proposed Citizenship (Amendment) Bill is unacceptable to the AJYCP and most of the people are in favour of implementation of the Assam Accord.
The Jorhat AJYCP later submitted a memorandum to the Prime Minister in this regard through the office of the Deputy Commissioner of Jorhat.
The sit-in demonstration was held from 11 am to 3pm.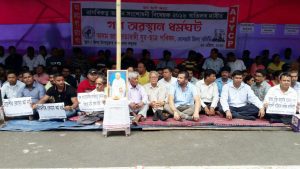 Similar sit-in demonstrations were held with members of the student-youths' body in most of the district and civil sub-division headquarters.
The protesters put up posters and banners and shouted slogans against the Narendra Modi-led government for planning to settle illegal Hindu migrants from Bangladesh in Assam.
Ritul Pathak, president of the AJYCP Jorhat District Committee  told media persons that the organization would continue to fight tooth and nail against the Centre's bid to settle illegal migrants from the neighbouring country in Assam, which is 'overburdened' with illegal Bangladesh migrants.
He said that the AJYCP was totally against classifying illegal migrants on religious beliefs.
"We want the Assam Accord's provisions to be followed in this regard under which those migrants from Bangladesh, who migrated till March 25, 1971, would be accepted as Indian citizens," said Pathak.
Several leading citizens including lawyers and leaders of several social organisations also sat along with the AJYCP members.