The All Assam Students' Union (AASU) along with several other organisations staged protest and took out a rally – Gana Satyagrah – against the Bharatiya Janata Party-led NDA Government's move to implement the Citizenship (Amendment) Bill, 2016 at Tezpur on Monday.
The Sonitpur district units of the All Assam Students' Union (AASU), All Bodo Students' Union, All Assam Karbi Students' Union (AAKSU), All Assam Adivasi Students' Union (AAASU), All Assam Tea Tribe Students' Association (AATSA), Pavoi unit of All Assam Karmachari Parishad (AAKP), former AASU leaders along with the Tezpur Anchalik unit of the AASU joined the protest programme.
The protest was also joined by former student union leaders of Asom Jatiyatabadi Yuva Chatra Parishad (AJYCP), former ULFA members, Sonitpur District Mistri Union, Sonitpur District KMSS, Mising Students' Union and Gorkha Students' Union. More than 5,000 people gathered at Joymati Field and moved throughout the town up to the Deputy Commissioner's office.
All the organizations vehemently criticized the BJP-led NDA Government at the Centre for its move to pass the Citizenship (Amendment) Bill. The groups also blasted the BJP-led State Government for supporting the move of the Centre.
The protesters shouted slogans like 'Narendra Modi Go Back', 'Sarbananda Sonowal Hai Hi', 'Himanta Biswa Sarma Hai Hai'.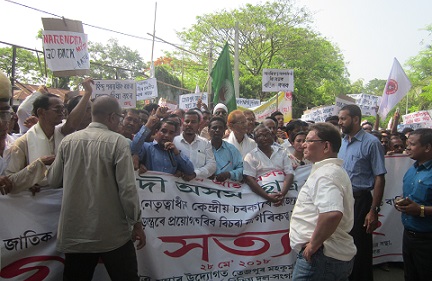 The protestors stated that the Bill if passed would destroy the ethnicity, culture and languages of the indigenous people of Assam and asserted that Assam couldn't bear any further burden of foreigners.
The protestors later submitted a memorandum – addressed to Prime Minister Narendra Modi – to the Deputy Commissioner, Manoj Kumar Deka.
After submitting the memorandum AASU assistant secretary Duldul Borkataki said, "There is a continuous people's movement against the Bill. Most of the organisations, individuals and people from all quarters have expressed that the proposed Bill would cause great damage to Assam's political future and the Central Government should immediately take steps to withdraw the Bill."
The protesters also mentioned that the Citizenship (Amendment) Bill 2016 seeks to make fundamental alterations in the citizenship and immigration norms in India by relaxing the requirements for getting Indian citizenship only on religious grounds. The Citizenship Bill Act, 1955 ensures that any illegal migrant does not get citizenship.