Assam Finance Minister Himanta Biswa Sarma on Wednesday inaugurated 42nd Junior National Badminton Championships at Kanaklata Indoor Stadium in RG Baruah Sports Complex here.
The Badminton Association of India is organising 42nd Inter State–Inter Zonal and Junior National Badminton Championship -2017 for U17 & 19 age group of boys and girls at Kanaklata Indoor Stadium.
Minister Sarma inaugurated the national championship in the presence of Manipur Deputy Chief Minister J Joy Kumar Singh.
Altogether six zonal champion teams under Badminton Federation of India ? Assam, Maharashtra, Air India, Kerala, Delhi and Uttar Pradesh have participated in the meet.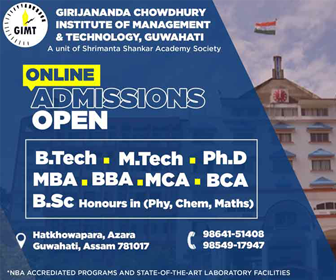 It is a mixed championship where competitions will be held in boys singles, girls singles, boys doubles, girls doubles and mixed doubles. Apart from the team championship, open events in all categories will also be held.
The players in Assam (Boys)  team are Iman Sonowal, Jiman Kachari, Suraj Goala, Subhakar Borbarua, Angshuman Gogoi, Angad Borchetia, Ayad Rashid, Tanmoy Bikash Boruah, Rajshekar Das, Rituporna Bora, Surajbha Buragohain, Abhinab Gogoi, Abhishek Borah, Deba Lalung Bordoloi, Biswajit Bordoloi, Abhijit Gogoi, Orijit Chaliha, Monimugdha Rajkonwar, Pragyanjyoti Gogoi, Ayan Rashid, Ayan Borchetia, Himanish Das, Navyaranjan Das, Pallav Bikash Boruah, Nibir Ranjan Choudhury, Syed Farhaz Hussain, Anurag Jalan, Bonep Sinha, Taurit Ranjan Das and Abhinab Boruah.
While in Girl team the players include Ashmita Chaliha (captain), Debahuti Lahon, lsharani Baruah, Diya Borah, Suzen Buragohain, Minara Pakiza Ullah, Chimran Kalita, Ankita Gogoi, Sibangi Baishya, Rishika Mahanta, Princy Das, Navopreeta Ashim, Daina Baruah, Maini Boruah, Parishmita Hazarika, Upashana Borgohain, Breezty Narah. Managers: L Hemanta Singh, Dibyajyoiti Bhuyan, Paran Hazarika. Coaches: Anshuman Hazarika, Suranjan Bhobora, Rituparna Dutta, Edwin Iriawan.